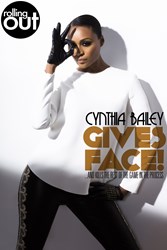 I set goals for myself...
Atlanta, GA (PRWEB) November 01, 2013
"Real Housewives of Atlanta" star Cynthia Bailey is a living doll. Amid all of the chaos and drama her co-stars may bring, Bailey stays cool as the Lorraine Schwartz ice.
As season six begins, Bailey is ready to face the challenges that might come, including supporting her husband, Peter Thomas, concerning his business problems, along with dealing with her own health issues.
Viewers will have to wait to find out what Bailey wants to share on the popular Bravo network show, but for now she's ready to share with rolling out's readers the impetus for her work ethic and why she has a heart that wants to bless the world.
"I am the hardest working woman in show business [laughs]. I've been working since I've been old enough to work. I set goals for myself that I want to achieve and willing to put in the work and sacrifices," she tells Washington, D.C.-based writer Mike James.
Visit rollingout.com to read the interview in its entirety. Be sure to check out the exclusive photo shoot and video footage with celebrity photographer DeWayne Rogers.
About rolling out Magazine:
Rolling out, the nation's largest free urban weekly, is a digital and print magazine that focuses on the black experience in response to entertainment, politics, fashion, culture, sports and lifestyle points of interest. Headquartered in Atlanta, rolling out is positioned as the voice for the African American experience, using its newspaper as a platform in the marketplace to express urgency for education reform, and to document entrepreneurial endeavors and other relevant issues in the Diaspora. For information on rolling out, please log on to rollingout.com.