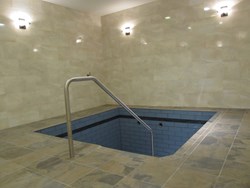 "Being inclusive is important to us." - Rabbi Rabinowitz
Malden, MA (PRWEB) November 01, 2013
What's the most important piece of infrastructure in a Jewish community? Jewish Law says it's the mikvah (ritual bath)--the first building a community should build. In 2004, when members of the Jewish community of Malden, Massachusetts met to list priorities of their steadily-growing community, on the top of their list was 'building a mikvah'. Almost a decade later, construction of Mikvah Mayanei Tovah has been completed. A gala inauguration celebration, including tours of the new mikvah, will be held on Sunday, November 10, 2013 from 7-9 pm, at Congregation Beth Israel, 10 Dexter Street, Malden.
Congregation Beth Israel, located in the West End of Malden just minutes north of downtown Boston, built its mikvah under the supervision of world-renowned mikvah expert Rabbi Yirmiyah Katz of Brooklyn, NY. Rabbi Yitzchak Zev Rabinowitz, Congregation Beth Israel's spiritual leader, and congregation president Jay Lamport, who together moved the project from the planning stages to actual construction, worked with committee Chairman Sam Goldberg to ensure that the mikvah is built in accordance with all standards, resulting in a mikvah that a wide spectrum of Jews are comfortable using. "We want to make sure that if we're building something for the Jewish community, that everyone can use it no matter what their standards and traditions are," said Rabbi Rabinowitz. "Being inclusive is important to us." Rebbetzin Tova Rabinowitz, who spearheaded the mikvah's design, created an aesthetically pleasing and warm feel. The beautifully designed mikvah has two spa-like preparation rooms and one ritual pool. Mikvah Mayanei Tovah is named in memory of Mrs. Toby Sontag, a''h, of Monsey, aunt of Rebbetzin Tova Rabinowitz.
Currently, members of the community drive to the mikvah in Brighton, MA, a 30-40 minute drive. A Malden resident said, "It will be a real pleasure to be able to use Mikvah locally, without a long drive, and with the ability to go on Shabbat or holiday. And it's great that it will be a resource for Jews of all backgrounds in the communities north of Boston."
Rabbis Yitzchok Bistritzky and Baruch Cywiak of Mikvah USA provided support that was indispensable in the construction of Mikvah Mayanei Tovah. The mission of Mikvah USA is to help communities bring mikvah projects from idea to reality, and without the grant and support they provided, Mikvah Mayanei Tovah might still be stalled in construction. Dedication opportunities remain available.
Congregation Beth Israel has been serving the spiritual needs of the Malden Jewish community since 1904. It is dedicated to strengthening and enhancing Jewish life in Malden and surrounding areas, and offers various financial assistance plans to its congregants. This affordable Torah observant community conveniently located 20 minutes from the Brookline community by car, is a short drive from I-93, and a fifteen minute train ride to downtown Boston.