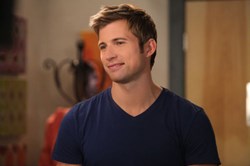 This is the full circle of Paul really being by Jane's side.
(PRWEB) November 01, 2013
'Drop Dead Diva's Justin Deeley is a heavenly body... and not just in the minds of the viewers of the show. Deeley plays Paul, Jane's lovable guardian angel. Paul has proven to be a stand-out fan-favorite on the program and Deeley's hilarious portrayal is a huge part of that success.
With the finale of Season 5 right around the corner for 'Drop Dead Diva,' news recently broke that the series has been re-upped for Season 6. There's more fun and adventures for Paul and Jane with plenty for fans to look forward to. Justin sat down with TVRage.com's Co-News Editor Allyson Koerner to talk about where the show is heading, what he appreciates about the Paul character, and how much fun the cast has on set.
Here's an excerpt:
"TVRage: This Sunday is the 'Drop Dead Diva' season finale. What can you tell us about the episode?
Deeley: What was great for me -- one of my favorite scenes that I shot all season was in this episode -- there's a scene in the very beginning of the episode where we're all eating breakfast -- Paul, Jane [Brooke Elliott], Stacy [April Bowlby] and Jane's mother [Faith Prince]. To watch those three work together, and the energy they came with, I can't wait to see that on [TV]. It might just be a blink of an eye and the scene is over, but it was just so much fun for me to shoot, and to be with everybody, and to see the chemistry between all the ladies. Plus, I got to eat, which when you get to eat in a scene it's pretty fun. I was eating an egg-in-a-hole. This is a real thing. It was great. I didn't even know what it was. A lot happens, obviously it being a finale, there's not too much I can say without giving it away. I will say, this was also a fun episode for me, because, again, this is the full circle of Paul really being by Jane's side. You know, when he came to the show he was sporadic and he was all over the place and he was like a kid at Christmas, he just couldn't get enough of life. This back end of the season he refocuses his energy on being there for [Jane], and I think that's what this episode is for Paul."
Deeley, who hails from Kentucky, had his breakout role as Austin Tallridge on '90210' before joining 'Drop Dead Diva.' Be sure to catch Deeley in the 'Drop Dead Diva' Season 5 finale this Sunday at 9/8c on Lifetime.