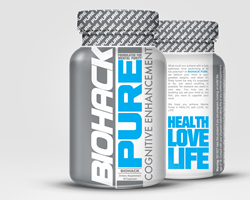 We truly believe our cognitive enhancement supplement offers benefits to adults of all ages and from all backgrounds, and I think the feedback we've received so far from our users supports that
Houston, Texas (PRWEB) November 05, 2013
In conjunction with its official upcoming release to the public, Biohack Pure has released its reviews from an initial customer test group. The reviews are posted on the Biohack Pure website, and they come from a diverse group of male and female customers. To date, the customer reviews have all been overwhelmingly positive, touting benefits from increased focus to improved sleeping patterns.
"We wanted to test Biohack Pure on people of different ages, races, and both sexes," said Jonathan Weisman, President at Biohack Nutrition, the company behind Biohack Pure. "We truly believe our cognitive enhancement supplement offers benefits to adults of all ages and from all backgrounds, and I think the feedback we've received so far from our users supports that."
The company's reviews come from a freelance marketing professional, a DJ, and a nutrition specialist.
One product tester, Cassandra Salvagio, said, "Your product is perfect for anyone seeking a vibrant change to your normal everyday pursuit of good health & brain optimization. As a Nutrition Specialist I truly believe Nootropics are the future!"
Joe, a DJ and graphic designer, said the following about Biohack Pure: "Finally! This product is exactly what I have been waiting for! I have noticed a drastic change in my ability to focus on the task at hand which is great since I work at home doing graphic design! I have also noticed a better rest state while sleeping. Hats off to Biohack Pure! I look forward to more products from this line."
Biohack Pure pre-orders are currently being shipped. The product is slated to be released to the public in the coming weeks. For more information, visit http://www.BiohackPure.com.