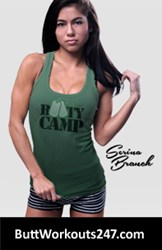 "I've been doing targeted exercises and also taking Gluteboost to help enhance my glutes, and the results speak for themselves!"
Houston, Texas (PRWEB) November 03, 2013
Gluteboost fitness model and brand ambassador Serina Branch competed in the 2013 NPC Bodybuilding Dexter Jackson Classic in Memphis, Tennessee on October 19, 2013. Branch earned a respectable 5th place finish in the bikini category, an improvement over last year's results and her personal best in this particular show.
Branch, an up-and-coming fitness model who recently signed an endorsement deal with Gluteboost, credits her success to her constant training and to her use of Gluteboost to improve her glutes and hamstrings.
"I gave 100% effort in prepping for this show. It was a great experience, and I left feeling more confident as well as more educated about how I can further improve going forward," said Branch. "Last year, the judges told me I needed to work on my glutes and hamstrings, so that's what I've been focusing on for the past year. I've been doing targeted exercises and also taking Gluteboost to help enhance my glutes, and the results speak for themselves!"
Serina Branch is featured on the all-new Gluteboost Booty Camp, where she shares her knowledge of fitness and nutrition to help women improve their figures and get a bigger butt. The new website features butt workout videos, fitness tips, diet tips, an Ask Serina section, and more.
"We're really excited to give Serina the chance to connect with Gluteboost customers to help them improve their health and fitness," said Jonathan Weisman, Gluteboost president. "Serina is a great asset to our company, and her passion for health and self-improvement shows in everything she does."
Official results for the 2013 NPC Bodybuilding Dexter Jackson Classic can be found at Bodybuilding.com. For more information on Branch, visit ButtWorkouts247.com.