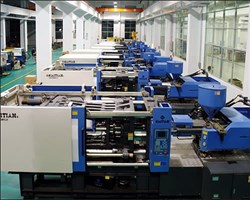 (PRWEB) November 01, 2013
Recently, Wuxi Glory Plastics, a well-known manufacturer of injection molding and plastic blow molding services, has unveiled its new molded plastic products. These new items are offered at discounted prices online, up to 33% off. The special offer will end on November 30, 2013.
According to a sales manager of the company, this range of molded plastic products mainly includes blow moldings. Blow moldings can be applied for the production of plastic containers, like pots, bottles, barrels, children's toys, daily uses and more.
Wuxi Glory Plastics has now become a popular brand in many industries: plastic toy industry, medical container industry, and more. Its strict quality control system is one of the most essential factors of its success. The company has much experience in the manufacture and development of molds, so it is now providing various kinds of molds and industrial plastic products to customers from all over the world. Up to now, the company has gained over 20 patented products, helping clients to get the tasks done faster and save money.
In addition, the company considers thinking for each client as its own responsibility. It pledges to its customers a commitment to excellent service. It has an expert team of engineers that can ensure all items from Wuxi Glory Plastics are international quality products.
About Wuxi Glory Plastics
Wuxi Glory Plastics was established in 1995 and is based in China. It specializes in providing various types of plastic injection molding and blow molding services. The company also provides customers discounted shipping for its products, as well as unmatched customer service. For more information about the cemetery and future events there, visit http://www.plastics-molding.com/products.htm.