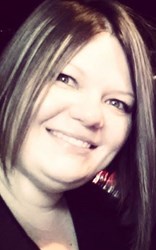 Working in the nonprofit sector changed my opinion about work in general. There's something to be said about waking up each morning knowing that my work impacts someone's life every day in some way
Houston, TX (PRWEB) November 05, 2013
Pink Ribbons Project is very proud to announce the appointment of its new Executive Director, Kristi Okwuonu, who most recently served as the organization's director and development coordinator.
"We are thrilled to appoint Kristi to the position of Executive Director and thank her for her incredible efforts on behalf of Pink Ribbons Project over the last few years," said Christie Cardon, Pink Ribbons Project Board of Director's President. "In addition to her impressive professional background, Kristi brings to her new position genuine passion and commitment to Pink Ribbons Project's mission. I know that she has the full faith and confidence of the Board and Pink Ribbons Project's founders as she moves forward with this new chapter in her professional life."
Okwuonu is a graduate of The University of Houston where she earned her Bachelors in Business Finance and Masters in Business Administration. While she initially felt that a career in finance was her dream, events within her personal life took her heart in a different direction.
"I'm honored to be a part of an organization that remains grassroots and provides support locally with funds remaining in the Greater Houston Community, my home town," said Okwuonu. "Working in the nonprofit sector changed my opinion about work in general. There's something to be said about waking up each morning knowing that my work impacts someone's life every day in some way. So, I need to be a good steward of our donors' dollars, making sure those resources are being put to the best use possible within the community. This also includes our incredible volunteers and the time that they commit to Pink Ribbons Project. I need to ensure that their time is well used as we could not accomplish what we do without them."
At a young age, Okwuonu found herself caring for her ailing father and helping him navigate through the complexity of the medical world. Even with health insurance, his care was costly and the insurance process was confusing and frustrating. Years later, her grandmother's health began to fail and she became her primary caretaker, eventually moving her into her home. She had similar experiences with the medical process during this time as well. However, her first experience with the complexities of the insurance world was when her sister developed Guillain Barré Syndrome during high school. Years of watching and physically helping her sister go through that painful time as a paraplegic, had a tremendous impact on Okwuonu and her future in the non-profit world. Happily, after many years of treatment and physical therapy, her sister is doing well and is married with three children. If it was this difficult for those with good insurance, Okwuonu wondered how individuals without insurance, without a support system, or who did not speak English as their native language were able to navigate these complexities. All were concerns that would influence her career move.
Okwuonu's involvement in the non-profit healthcare sector began with The Rose, a venerable Houston-area non-profit focusing on breast cancer diagnosis and care. A close family friend of Okwuonu's coordinated the first fundraiser to help establish The Rose in Houston, so Okwuonu and her family had been supporters of The Rose since its early beginnings. Through this friend, Okwuonu learned that The Rose was looking for a special events coordinator. Because she needed more flexibility to care for her ailing father and wanted to do something more meaningful with her life, Okwuonu went for it. She spent a fabulous seven years at The Rose, starting low on the totem pole, coordinating all special events, motivating staff, coordinating volunteers, and developing relationships with patients, as well as supporters. She ultimately was promoted to development manager where her responsibilities included grant management, event sponsorships, third-party events and other fundraising activities. Okwuonu felt that she had finally found her professional calling and truly felt fulfilled. However, with the passing of her father and with her grandmother now living in her home, she decided to take a break from work to focus on her grandmother's growing healthcare needs.
However, Okwuonu was not away from the work force long. In March 2010, she received a call from Loubel Cruz Galik, then the newly appointed Executive Director at Pink Ribbons Project. Galik knew Okwuonu well through Pink Ribbons Project's relationship with The Rose. Pink Ribbons Project needed a part time development coordinator, and the position would allow flexibility for Okwuonu to work from home on a contract basis so that she could continue to care for her grandmother. After a year, Okwuonu's position became fulltime, and she was responsible for cultivating donor relationships, the partnership guild, which includes Pink Partners, as well as writing and managing grant applications. Now, after ten years in the non-profit sector, Okwuonu feels rewarded knowing that her efforts are truly making a difference in the lives of others.
"When people call Pink Ribbons Project, we can direct them and help them determine which organizations can best meet their needs," continued Okwuonu. "Pink Ribbons Project is not recreating the wheel, but is a well balanced organization in how it assists other breast cancer partners in helping others. I love that we use the arts to raise money to help fund our internal programs, education outreach, providing diagnostic and screening services, and helping those who have been diagnosed. I've been doing this for 10 years now and it makes me feel great!"
Okwuonu is looking forward to leading Pink Ribbons Project as it heads into 2014 and beyond. The possibilities are endless. In addition to the great work Okwuonu is doing at Pink Ribbons Project, she still finds time to enjoy reading, traveling and training in Tae Kwon Do. She and her husband, Geoff, live in Missouri City with their dogs, Kelly and Sasha.
Pink Ribbons Project Takes Its First Step
Pink Ribbons Project was created in 1995, when Jane Weiner, a professional dancer in New York City, learned that her sister in Houston, Susan Rafte, had been diagnosed with breast cancer. Jane joined with friends and fellow dancers David Parker, Sara Hook and Robin Staff to found Pink Ribbons Project, in motion against breast cancer®. Together they produced a fundraiser in New York City to raise money to send breast cancer survivors to testify in Congressional hearings in Washington D.C. That testimony helped convince the FDA to approve three new cancer-fighting drugs. One of those drugs was Taxotere – a drug Susan would take the next year, allowing her to improve enough to receive a stem cell transplant in 1997. Today, Susan is a 15-year cancer survivor and is the Founder Survivor of Pink Ribbons Project® and still working with Jane, the Artistic Director, to educate women about breast cancer through the medium of dance and art. Monies raised fund breast cancer education, screening, advocacy and outreach.
Pink Ribbons Project Still Moving Today
Pink Ribbons Project uses the arts in everything they do because it reaches people at the level of personal vulnerability and moves them to action in a way that other approaches may not. Pink Ribbons Project empowers those touched by breast cancer through education, awareness and outreach programs. The organization helps underserved women receive breast cancer screenings and follow-up care through services at clinics and mobile mammography units throughout the Greater Houston area. For more information about Pink Ribbons Project's many programs, call: 713.524.PINK (7465) or visit: http://www.pinkribbons.org.