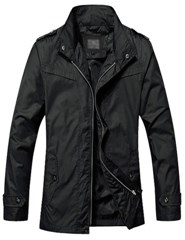 (PRWEB) November 01, 2013
The 4leafcity.com company strives to provide the customers with an enjoyable shopping experience by offering fashionable clothes at affordable prices. Today, the company has proudly announced its exclusive collection of windbreakers for men. Additionally, all these new windbreakers are offered at discounts, up to 35% off.
To help customers around the globe to take advantage of the special offer while it lasts, the company has updated its website to provide the latest information about this range of windbreakers for men. These windbreakers are functional and fashionable, and more importantly, the prices are very affordable. A lot of them are priced from $150 to $350.
The CEO of 4leafcity.com states, "We are very happy to announce the exclusive collection of windbreakers for men. Those who are interested in our windbreakers, please visit our website and sign up to be our member as soon as possible before the end of this month.
"Apart from windbreakers for men, we have Chinese traditional clothes and women's special-occasion dresses for sale. We are now giving a 40% discount on most of our clothes. This is a very good opportunity for all of you to make the best purchase," he adds.
About 4leafcity.com
4leafcity.com was founded in 2009 and serves more than 5000 customers from all over the world. It is one of the leading providers of men's and women's clothes, helping the people worldwide develop self-esteem, confidence and love of learning. For a full list of services and to learn more about 4leafcity.com, please visit http://www.4leafcity.com/product-men-s-windbreaker-009003004.aspx.