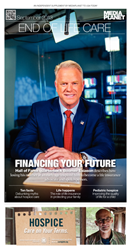 New York, NY (PRWEB) November 04, 2013
On the weekend of September 27th-29th, MediaPlanet Publishing, along with leaders in the hospice and palliative care industry, partnered together to release "End of Life Care: A Reader's Guide to Hospice and Palliative Care" in USA TODAY. This fact-filled, resource-rich, inspirational section examined answers to the questions so often heard in homes, hospitals and hospices, as healthcare consumers and their families grapple with the fears surrounding the provision of care for the seriously ill and the dying. "I don't know, what I don't know about end of life care," say many patients and families. "Who do I turn to? What do I need to know?"
This publication creates dialogue and provides resources for families seeking solutions for their own care, discussing the importance of family conversation, community, and the inherent joy to all, as we find meaning and purpose in celebrating what can be deemed as the most difficult passage in life: death.
One of the many highlights of this publication was the article "What it takes to work in Hospice" a Q&A with Anthony R. Perre, Chairman and Co-Founder of The StateServ Companies. In it, Mr. Perre discusses how he became involved in the hospice industry, his top influencers, and the special skill set it takes to provide the compassion and care to those who need it most.
About MediaPlanet Publishing Inc.
MediaPlanet Publishing Inc. is the global leader in themed media. In partnership with top newspapers around the world, MediaPlanet creates niche publications that educate, engage, and inspire our readership to take action.
About StateServ
With a commitment to help hospices succeed, StateServ leverages technology to streamline its business processes which creates an environment that breeds success and excellent customer service. Our unparalleled innovation allows us to maintain the highest levels of customer service at a competitive rate.
Contact:
Nancy Johnson
Marketing and Communications Manager
480-966-8965
njohnson(at)stateserv(dot)com