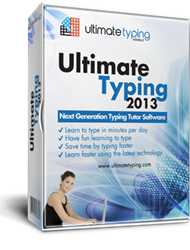 ...any time, effort, and cost incurred in learning to type is far less than the benefits that can be realized in terms of enhanced income.
New York City, NY (PRWEB) November 06, 2013
Typing with speed and accuracy is a critical skill in this era of technology where the computer is integral to daily life at home and at work, stated the eReflect team in their latest briefing. The team highlighted that this is specifically true for individuals that are searching for a job within the computer industry, or one that requires a great deal of typing. Ultimate Typing, the latest product from eReflect, is designed to impart the necessary theoretical and practical knowledge to typists that will allow them to type like a professional in a matter of two weeks. Ultimate Typing requires users to simply expend seven minutes on a daily basis for a period of two weeks. The advanced technology integrated within the software is able to teach users ergonomics knowledge and significantly enhance the word per minute average.
The team reported that being a fast typist can open up a range of job opportunities, and that this skill can quickly be attained through an expert typing tutor program. Learn to type with speed and accuracy, noted the eReflect developers, and this will provide entry into fields with highly paid jobs such as those that are available at various job listing sites like Jobstreet.com.
Ultimate Typing provides a certificate of completion at the end of the training course, and this certificate is a proof of the typing skills of the user. A simple typist can earn up to as much as $20,000 a year, stated the eReflect team. The team pointed out that this estimation was derived from a post published by Speed Reading Techniques.org, which looked at current job openings in typing-related fields.
Typing jobs range from simple data entry clerks to transcriptionists, and from journalists to search engine optimization specialists. The team believes that any time, effort, and cost incurred in learning to type is far less than the benefits that can be realized in terms of enhanced income. The current slow economic recovery means that hopeful employees are often unable to land their dream job due to the massive amount of competition in the job market. Learning to type can allow people a competitive advantage in many fields, concluded the eReflect team.
For more details on Ultimate Typing™ please visit http://www.ultimatetyping.com/.
About Ultimate Typing™
Ultimate Typing™ software is designed specifically for the improvement of typing skills. Created by eReflect, a world leader in e-learning and self-development software, Ultimate Typing™ has been informed by the latest developments in the science of touch typing.
Since its creation in 2006 by Marc Slater, the company has already catered to over 112 countries all over the world, offering products with the latest cutting-edge technology, some of which are among the world's most recognized and awarded in the industry.