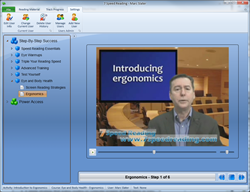 The brain's plasticity is even present in individuals suffering some sort of cognitive decline associated with aging.
New York City, NY (PRWEB) November 04, 2013
eReflect knows that a good memory is essential when learning any skill, including speed reading. That's why the 7 Speed Reading™ blog editor recently interviewed Mark Beselt on how memory issues can be resolved and which memory improvement approaches work well in increasing a person's memory capacity and performance. The results of this interview were recently published on eReflect's product website, according to a statement released today by the company.
The 7 Speed Reading™ editor shares the information received from Mark Beselt on how crucial a strong memory is for everyone; children need it to develop skills and acquire language and speech, teens need it for education, and adults need it for work and personal life efficiency. Beselt revealed to the 7 Speed Reading™ editor how brain plasticity is a brain feature everyone should take advantage of. Brain plasticity, he explains, allows the brain to shuffle, re-organize and welcome new bits of information and memorize them. This capacity is what allows scientists to assertively say memory improvement is possible, rather than that memory is fixed or stagnant.
With cognitive challenges and stimuli, anyone at any age can sharpen their memory, given the right tools are at hand and are used consistently, Beselt told eReflect. The brain's plasticity is even present in individuals suffering some sort of cognitive decline associated with aging.
One piece of advice Beselt shares with 7 Speed Reading™ blog readers is to stop thinking that memory improvement training is age-related. A person can start improving their memory at any time in their life, and there's no such thing as a special window for improving memory - any age is the right age to start.
He further advises 7 Speed Reading™ blog readers to take a look at their lifestyle choices and make changes where certain habits are sabotaging their memory capacity and overall cognitive performance. Poor sleep habits, stress, fast food diets, and lack of exercise all contribute to memory deterioration. Through small, gradual lifestyle changes, memory capacity can return to normal levels. eReflect added that daily memory-improvement activities such as puzzles, crosswords and creating mind maps are easily applicable techniques that can keep anyone's memory strong and active.
For more information about the benefits of using 7 Speed Reading, please visit the official website at http://www.7speedreading.com.
About 7 Speed Reading™
7 Speed Reading is the only modern speed reading software that uses the latest technology to produce superior results.
The software provides its users with a new way to master speed reading that guarantees three times the reading speed along with improved memory and comprehension.
The software is poised as the most comprehensive speed reading system anywhere. It contains seven learning strategies, fifteen software activities, video training, advanced tracking capabilities and many more exciting features.