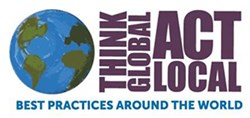 New Orleans, LA (PRWEB) November 05, 2013
The APHA Annual Meeting & Exposition is the premier public health educational forum. Tulane faculty, staff, and students have been selected to present their research at this meeting, the oldest and largest gathering of public health professionals in the world.
Tulane's School of Public Health and Tropical Medicine will also exhibit at the APHA Exposition.
To view the time, subject, and location of Tulane presentations, please select a date below:
Sunday, November 3
Monday, November 4
Tuesday, November 5
Wednesday, November 6
There is also an APHA app that can be downloaded to help plan the APHA experience.
Alumni Event: Tulane SPHTM Alumni Association Reception
Don't forget to attend the Tulane SPHTM Alumni Reception: Monday, November 4, at the Boston Convention and Exhibition Center, Room 260, 6:30 p.m. - 8:00 p.m.
For Prospective Students: ASPH Schools of Public Health Visit Day
Take advantage of the unique opportunity to engage CEPH-accredited schools of public health at one convenient location during APHA. Visit Day at APHA is designed for prospective students to discover the rewards of a career in public health. Register Now!
About Tulane's School of Public Health
Tulane's School of Public Health and Tropical Medicine is the only American combined school of public health and tropical medicine and the oldest American school of tropical medicine. The school's mission is to advance public health knowledge, promote health and well-being, and prevent disease, disability, and premature mortality. This is accomplished through education of public health professionals, scientific research of problems, partnerships, and service to the global public health community. A leader in global health, the school is comprised of six academic departments: biostatistics and bioinformatics, global community health and behavioral sciences, global environmental health sciences, epidemiology, global health systems and development, and tropical medicine. For more information, please visit http://www.sph.tulane.edu/.