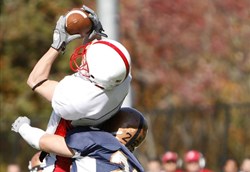 71% of NFL players claim that they misused narcotic pain killers during their career.
Rhinebeck, NY (PRWEB) November 01, 2013
It's football season and America is fully in the game, watching NFL's top athletes every Thursday, Sunday, and Monday as they huddle, receive, hurry-up, and touchdown. Even Dr. Oz is involved in the game, explaining the pride he felt watching his son play football for the very first time for The Together We Make Football Campaign: http://www.togetherwemakefootball.com/contest.html.
But as the country cheers on their favorite teams and compare stats, there's one very serious and significant NFL statistic that deserves to be featured in the highlights: 71% of NFL players claim that they misused narcotic pain killers during their career, according to a study published online in Drug and Alcohol Dependence, a peer-reviewed, scientific journal. The study, conducted by researchers at Washington University in St. Louis School of Medicine, is the first of painkiller use and misuse by former NFL players.
"Clearly, this study indicates we're not doing enough to care for our wounded and impaired athletes," said Dr. Wilson Compton, who served from 1995 to 2002 as a treating clinician in the NFL's substance abuse program and is now division director for NIDA.
It's no surprise that players need relief from the pounds, hits, and tumbles they endure. Yet, reaching for pain medication can spiral into addiction—impacting their careers and changing their lives.
Luckily, there's a safety. All-natural, free of side effects Topricin is showing up in NFL locker rooms and is helping players enhance their edge without slowing them down.
Lou Paradise, president and chief of research of Topical BioMedics, Inc., and pain management expert, says, "Pain is a vital signal from the body alerting us to the fact that there are damaged or inflamed muscles, joint, or nerve cells it wants to fix, and it needs some help to balance its natural healing chemistries to get there. In order for healing to begin, the body needs help removing excess fluids and toxins from the affected area, such as joints, nerves and muscles. This takes the pressure off the micro-capillaries so that oxygen-rich blood can then flow to the area, so that optimum healing can begin, and at the same time natural sensing chemistries shut the pain signal off. Topricin works by first stimulating the lymphatic system to drain toxins and fluids from the affected area and returning oxygen rich blood flow to the cells for maximum repair and healing." The product has been shown to reduce the need and/or dependency on all classifications of oral pain medications.
Topricin has been credited as "The 21st Century standard of care for pain management" by Woodson C. Merrill, MD Beth Israel Medical Center and is favored by Dr. Robert S. Gotlin, Director, Orthopedic and Sports Rehabilitation.
Says Dr. Gotlin, "Having a product available which has low potential for unfortunate side effects and such tremendous efficacy makes Topricin a welcome product for the treatment of musculoskeletal pain. The odorless and greaseless topical has become a mainstay in my medical toolbox."
Why Topricin is a valuable team player:
According to pro strength and conditioning coach Jeff Hurd, "I have used and been exposed to numerous pain relieving products and without hesitation, I can honestly say that Topricin is the most effective product for me that I have ever used. In the grueling daily grind of this league, we are always looking for ways to cut down on inflammation and promote healing. Topricin is the product that totally meets these demands."
Topricin gives players the leading edge by:
*Helping improve and maintain performance
*Enhancing warm-ups
*Providing rapid recovery
*Relieving knee pain, shin splints, Achilles pain, tendonitis
*Calming friction rash
*Healing soft tissue and muscle injuries
Topricin—helping football get fueled by nature, not by chemicals.
About Topical Biomedics:
Topical BioMedics is the research and development leader in topical patented natural biomedicines for pain relief. The company's flagship product, Topricin® Pain Relief and Healing Cream, was introduced in 1994 and is now a leading natural therapeutic brand. The formula has the distinction of being the only topical patented for the treatment of the pain associated with neuropathy and fibromyalgia. Topricin was awarded a Parent Tested/Parent Approved Seal of Approval, and was selected as a 2012 Top 100 Green Products by Healthy Holistic Living. Other formulas in the product line include Topricin Foot Therapy Cream and Topricin Junior for children (with 5% sales donated to pediatric cancer foundations).
All Topricin products are made in the U.S.A., formulated with approved medicines as found in the HPUS (Homeopathic Pharmacopoeia of the United States) and are in compliance with federal rules for homeopathic over-the-counter medicines. The products contain: no parabens, petroleum or harsh chemicals, are odorless, greaseless and non-irritating, and produce no known side effects, making them ideal and safe for the entire family.
Topricin is available in pharmacies, natural food stores, and retailers nationwide, including Whole Foods, The Vitamin Shoppe, Fred Meyer, Wegmans, CVS (Foot Care Section), Walgreens (Diabetic Section) and other fine stores, as well as directly from the company. For more information, visit http://www.topricin.com.
###
*Topical BioMedics Inc.
*Sports ESPN sports.espn.go.com