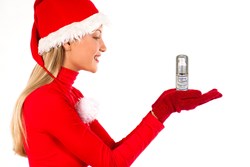 "Our new gift guide helps buyers find that perfect gift or stocking stuffer that will please," says Kathy Heshelow, founder of Sublime Beauty.
St. Petersburg, FL (PRWEB) November 02, 2013
Hanukkah comes early this year, and Christmas is just around the corner, too. Sublime Beauty® offers a number of special holiday gifts for both men and women, and has put together a holiday guide that can be downloaded or viewed on its website.
"We have a number of festive gift boxes with bow on top, filled with serums or serums and jewelry," said Kathy Heshelow, founder of Sublime Beauty®. "Our serums are so popular with both men and women, we also put four together in a great zip bag. Great for a "self-gift" or to give - and most items are on pre-sale."
The company also made some short holiday idea videos, found on the Christmas pages of its website.
Men especially love the Sublime Beauty® foot balm and the healthy Skin Brushes. The Face Whisperer® products are consistently popular, too, and make nice gifts.
Teens love the Citrus scrub and toner as well as the Skin Brushes, following actresses and models like Kim Kardashian, Miranda Kerr, Molly Sims, and Stacey Kiebler who talk about their love of Skin Brushing.
"We offer a one-stop shop to get many great little gifts and stocking stuffers," says Heshelow. "Our new e-commerce store will be up soon, too. We love Amazon, and let Amazon warehouse, fulfill and ship our products so buyers can get free shipping and fast service."