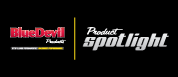 (PRWEB) November 03, 2013
Keeping potential customers in the forefront of it's business model, BlueDevil Products has released the third installment of it's new Product Spotlight series highlighting it's popular BlueDevil Pour-N-Go Head Gasket Sealer. NASCAR ® Whelen All American Series driver Ham Morrison is back in "The Garage" describing the product, providing answers to some frequently asked questions and giving some installation tips along the way.
"The feedback from these videos has been great!" says Michael Schrecker, Director of Marketing for BlueDevil Products. "We're excited for this third piece of the series and are looking forward to next one already! This Product Spotlight video strategically launches just in time for The Automotive Aftermarket Products Expo (AAPEX) at the Sands Expo Center in Las Vegas, NV where BlueDevil Products will be represented at booth 32006! For more information on the Pour-N-Go Head Gasket Sealer or other BlueDevil Products, check them out in Vegas or on the web at http://www.gobluedevil.com.
The 16 oz. Pour-N-Go BlueDevil Head Gasket Sealer is formulated for the Do-it-Yourself customer who has limited time, or is not mechanically inclined. The 16 oz. is intended for the customer seeking a single repair on a 4 or 6 cylinder engine. The ease of use, along with the savings in cost, make this 16 oz. BlueDevil coolant leak sealer an excellent retail option. It's available nationwide at Advance Auto Parts, AutoZone, O'Reilly Auto Parts, NAPA, PepBoys and other leading auto parts stores.
Since 1997, BlueDevil Products has become a serious competitor in the automotive aftermarket with its complete line of chemical solutions. From cracked heads and radiators to oil pans and transmissions, BlueDevil Products manufactures quality sealants for various repair options in automotive systems.