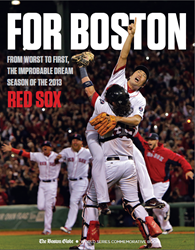 Red Sox Nation will remember this season for years to come and this book will bring those memories to life, time and again.
Boston, Massachusetts (PRWEB) November 01, 2013
"For Boston: From Worst to First, the Improbable Dream Season of the 2013 Red Sox" – a new book published by The Boston Globe and Triumph Books – relives every dazzling moment of the 2013 season with a review of its highs and lows, complete game summaries and statistics, vibrant color photographs, and more.
The 128-page paperback, also available as an e-book, includes Boston Globe print content and photography of the storied Sox franchise, and features reporting by the award-winning sports staff and photojournalists of The Boston Globe – Dan Shaughnessy, Nick Cafardo, Stan Grossfeld, Christopher Gasper, Peter Abraham, Kevin Paul Dupont, John Powers, and more. An enhanced multimedia version of the e-book for iPads, including video, will also be available.
"The Globe's sports staff has been there for every heartbreak and homerun on the road to the championship," said Janice Page, the editor of the book. "Red Sox Nation will remember this season for years to come and this book will bring those memories to life, time and again."
The book examines how new manager John Farrell and general manager Ben Cherington reconstructed the roster and crafted a committed team, bonded by baseball and their now iconic beards. The book chronicles many special moments, set against the backdrop of a city shaken by the tragic Marathon bombings that took place just as baseball season began.
"The book transcends sports – it's a tale of resilience and redemption that fans of all kinds can identify with and embrace," said Boston Globe sports editor Joe Sullivan.
A feature on the value of strikeouts, odd plays that ended up being World Series firsts, player profiles and a full team roster are included in the book. The historic importance of the Sox-Cardinals matchup is also explained, with a special retrospective section about the rivalry over the years, complete with vivid photography.
The book is now available for purchase at all online booksellers for a cost of $14.95. It will also be available in retail stores where books are sold beginning on Saturday. The e-book is available digitally on the iBookstore, Kindle Store and BN.com for $7.99; an enhanced e-book with compelling video is also available for $9.99.
About The Boston Globe:
The Boston Globe, part of Boston Globe Media Partners, LLC., is a leading source of news, entertainment, opinion, and analysis in New England. BGMP also includes BostonGlobe.com and Boston.com and other related properties.
Contacts:
Ellen Clegg, Executive Director of Communications, The Boston Globe, ellen(dot)clegg(at)globe(dot)com, 617-929-3339 - office; 617-615-7103 - mobile, @BostonGlobePR
Mary Zanor, Elevate Communications, mzanor(at)elevatecom(dot)com, 617-548-1107, @Maryloganz