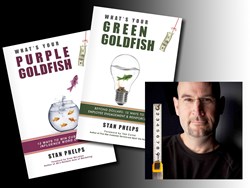 Learn about differentiation through added value using the Goldfish Principle.
San Francisco, CA (PRWEB) November 04, 2013
On Monday, November 11, 2013, author, popular keynote speaker, and founder of consultancy 9 INCH marketing, Stan Phelps, will show the Marketing Executives Networking Group (MENG) Northern California Chapter how marketing must focus on meaningful differentiation to win the hearts of both employees and customers. Traditional "tell and sell" marketing is dead. Marketers can no longer afford to "spray and pray." Today's unsung hero is the empowered customer. The challenge is to leverage their advocacy by selling less and giving more; to focus on the little things that give existing customers a reason to buy more, to come back more often, and to tell more of their friends. Retention pays. According to Gartner, a 5% increase in retention can boost profits by 25% to 125%. Referred customers are upwards of four times more valuable than ordinary customers.
Says Phelps, "MENG's members will learn about differentiation through added value using the Goldfish Principle. They'll understand the importance of customer experience and its impact on satisfaction, retention and word of mouth."
In his talk, Phelps will make the business case for retention and referral-based marketing strategies. He'll share insights about customer-centric marketing from his award-winning, crowd sourcing effort, the Purple Goldfish Project, which he developed into a book. Attendees will hear about customer-centric marketing lessons from leading brands such as Apple, Disney, Southwest and Zappos. Phelps will offer practical advice and tips on how you can leverage signature added value to drive differentiation, increase retention and generate word of mouth.
Says Elizabeth Macken, MENG Northern California Chapter Chair, "Phelps' practical examples enable marketing leaders to learn how to increase customer satisfaction and drive customer retention and referral as a more profitable alternative to traditional customer acquisition."
MENG welcomes its members and other senior executives in Marketing, Sales, Advertising, PR, Market Research, Strategy, Branding, and related fields. The program will be held at the Parc 55 Wyndham Hotel in San Francisco from 6:30 pm to 8:30 pm. To register: http://mengonline.com/events/13418/
About Stan Phelps
9 INCH Marketing Founder & Chief Measurement Officer Stan Phelps is a leading expert on experiential marketing. His North Carolina-based consultancy works with senior leaders to win customers through referral-building programs designed to win the hearts of employees and customers. He's the author of two books: "What's Your Purple Goldfish?: How to Win Customers and Influence Word of Mouth" and "What's Your Green Goldfish?: Beyond Dollars: 15 Ways to Drive Employee Engagement and Reinforce Culture."
Phelps has more than 20 years of marketing leadership experience with brands such as adidas and PGA Worldwide Golf Exhibitions. Prior to founding 9 INCH Marketing, he spent seven years as Chief Solutions Officer with the award-winning agency Synergy, creating programs for brands such as KFC, M&M's, Pampers, Starbucks and Walmart. He has a Certificate in Achieving Breakthrough Strategy from Harvard Business School and a JD/MBA from Villanova University.
About MENG
Founded in 1995, MENG is the leading national community of top-level marketing executives. The organization is devoted to enhancing its members' professional skills, relationships, and knowledge, priding itself on a culture of camaraderie. MENG is structured as a not-for-profit membership organization with more than 1,400 members. MENG fosters career and personal success across nearly all industries and marketing specialties by providing networking opportunities and the ability to share knowledge and best practices. To learn more about MENG, visit http://www.MENGonline.com.