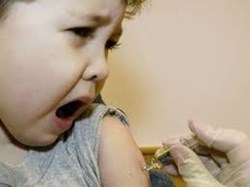 There is a gap in flu protection for infants under the age of 6 months.
Fort Myers, FL (PRWEB) November 05, 2013
A nearly decade long study documenting flu related fatalities in adolescents aged 18 and under uncovered a major gap in preventative care for children under the age of 6 months. According to the study published online in the October 28, 2013 Pediatrics Journal entitled, "Influenza-Associated Pediatric Deaths in the United States, 2004–2012" by Karen K. Wong, MD, MPHa, Seema Jain, MDb, et al., 11% of documented children deaths were made up of infants under 6 months considered too young for preventative flu shots. Quoting the study, "Children without high-risk medical conditions were more likely to die before hospital admission (relative risk: 1.9; 95% confidence interval: 1.6–2.4) and within 3 days of symptom onset." Further the study states, "…these data which reveal that any child can be at risk of influenza associated death regardless of age or high risk medical conditions, support the recommendations that all children greater or equal to 6 months of age receive annual influenza vaccinations."
The study fails to offer advice on alternative flu treatments for infants under the age of 6 months. The study did recommend individuals close to the infant receive flu vaccinations. With likely exposure to extended family members, friends, public areas, and daycare centers, the recommendation would be hard to follow.
According to the CDC, "For the 2013-2014 influenza season, trivalent and quadrivalent inactivated influenza vaccine (IIV) is available…IIV should not be administered to infants less than 6 months of age." Additionally, according to the CDC, "A two-year study of children aged 6–24 months found that the vaccine was 66% effective in preventing laboratory-confirmed influenza in one year of the study (Hoberman et al., 2003)."
Kevin McGuire, President of UV Technologies, LLC and inventor of patent pending UV-Aid, states, "Flu vaccines are not 100% effective in stopping the flu and additionally vaccinations are NOT recommended for children under the age of 6 months. This leaves gap in flu protection especially for infants under the age of 6 months. Photo-oxidation provides a natural and effective option for preventing airborne diseases like the flu."
CDC data shows that during the summer seasons when photo-oxidation is highest, the occurrence of flu is 100 times less than during the winter. Further, the American Academy of Pediatrics recommends exclusive breastfeeding for the first 6 months and continued breastfeeding for at least the first year as foods are introduced.
About UV Technology, LLC:
UV Technologies, LLC's mission is to promote health and well-being through innovative light based technologies. UV-Aid helps prevent colds, flu, sore throats, sinus and ear infections through the process of photo-oxidation. Hydrogen peroxide is produced in areas susceptible to infection. UV Technologies offers other innovative products for its customers to live a healthier and more productive life including iTanSmart, an app. that helps prevent sunburns and manage sun exposure.