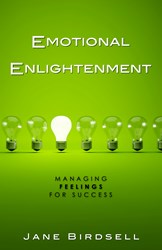 What matters most in terms of success in emotional intelligence is awareness of the emotional state of oneself and others and how to harness that knowledge to achieve. - Andrew Shatte.
(PRWEB) November 05, 2013
In a recent Forbes Magazine article, Jan Bruce writes How Emotional Literacy Can Make You a Better Leader. She quotes Andrew Shatte who says, "The problem with the concept of Emotional Intelligence is that there is not a whole lot of straight-up application." Jane Birdsell's book Emotional Enlightenment: Managing Feelings for Success is being praised by readers for its clear, practical and accessible presentation of emotions making it easier to understand than many other texts on the subject. Her book won a 2013 Indie Excellence Finalist Award in the Relationship Category.
Emotional Enlightenment dissects feelings in such a way as to reveal what they really are, how they develop, what causes them and how to manage them when they are negative. It enables readers to become experts on their own emotions, leading to a sense of self-control and self-confidence. It also empowers them to understand the emotional experience of others, which facilitates successful relationships. She provides exercises and examples to enhance this learning.
Ann Laverty, PhD, RPsych., Associate Director of Counseling at The University of Calgary's Student's Union Wellness Centre, has endorsed Jane's book with the following comments: "I have recommended this book to several clients who appreciated the transparency of practical suggestions and exercises included and the encouraging voice in which the book is written. I believe this text is particularly helpful for post-secondary students who are learning about the importance of emotions as well as benefits of knowing how to express and manage responses."
Emotional Enlightenment: Managing Feelings for Success provides "deep, fresh psychological insights, which makes the book a perfect teaching tool for a classroom setting," says Jennifer de Poyen (a California-based writer and critic). "Yet, it is written in a direct, accessible style, which makes it useful for anyone who wants to improve his or her relationships."
The book is available at Amazon and Barnes & Noble in the United States and at Owl's Nest Books and other quality bookstores in Canada. It is also available on Kindle.
About Author Jane Birdsell:
Jane Birdsell has been a Nursing Instructor, a Public Health Nurse and a mother of two children. After her children started school, she obtained a Master's Degree in Counselling Psychology from the University of Calgary. For 25 years, she worked as a psychologist conducting her own private counseling practice and teaching Personal Development Seminars. At the University of Calgary, Division of Continuing Education, she taught a course for 18 years called Understanding Self-Esteem: A Discussion and Information Course for Women. She also taught Enhancing Personal and Professional Effectiveness (for men and women) for 14 years. Jane is pleased with the success of her book on the Calgary Herald Best-Seller list and in the 2013 Indie Excellence Award Contest.