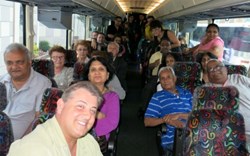 Paterson, NJ (PRWEB) November 04, 2013
Joseph Federico announced that the Lou Costello Charity Tent presented a check to St. Anthony's of Padua Parish for the proceeds of a fundraising trip to Atlantic City. Joseph Federico, President of the Tent and director Ruth Vitale, led a fund raising bus trip to the Caesar's Palace Casino in Atlantic City, NJ this past summer.
All proceeds went to benefit St. Anthony's of Padua Parish in the late great actor Lou Costello's home town of Paterson NJ. Parish secretary Maria Yee received the check on behalf of the parish.
During the trip to and from Atlantic City, NJ, all guests participated in Bingo games conducted by Joseph Federico and Ruth Vitale with various prizes which raised additional proceeds for the church.
The Lou Costello Charity Tent of Paterson, NJ, (Lou's home town) was originally started in the 1970's as the Lou Costello Tent by Mr. Costello's personal physician and longtime friend Dr. Fred Crecente. The organization has raised thousands of dollars for charitable organizations via celebrity dinner roasts, casino nights, and golf outings.
After a long hiatus, former Director and current President Joseph Federico revamped The Lou Costello Charity Tent of Paterson, NJ as a sub-chapter of National Circus Saints and Sinners of America, Inc. through the permission of the Costello family. It was established to continue the fundraising principles of the previous tent to aid charity organization and charitable causes by holding fundraisers of various types.
More information about the Lou Costello Charity Tent can be obtained by contacting Joseph Federico at The Lou Costello Charity Tent, PO Box 155, Paterson, NJ 07533 or by email at joef(at)njmet(dot)com. For more information on Mr. Federico's charitable activities, please see Mr. Federico's website.