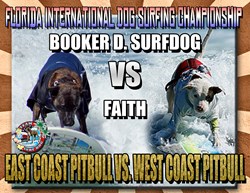 East Coast Pit Bull surf champion meets West Coast Pit Bull surf champion.
Cocoa Beach, FL (PRWEB) November 01, 2013
The home of I Dream of Jeannie, and now the home of Booker D. Surfdog, is doing it again. Of all places, on I Dream of Jeannie Lane, in Lori Wilson Park, November 2 - 3, the Florida International Dog Surfing Championship will be hosting some of the top Surf Dog talent in the country.
Guinness Book of World Record Champion Abbie Girl, who holds almost every surfdog title on the west coast, will be in Brevard County for the first time. Abbie's Dad Michael Uy simply says, "Woof!"
Purina Incredible Challenge winner Medium Division, Jedi Surfs, is a most rambunctious young "padwa." This intrepid SURFUR challenged on her personal Facebook Page, "Florida, I'm coming for you."
The International component will be in full swing, when Moses, the hope of Brazil, faces of against PAFB 's Team AVET 's "furrocious" Chihuahuas, Koa & Boaz.
But what people are waiting for is the East Coast / West Coast rivalry that has been building for years. Hard to imagine, but one year ago Faith, was homeless, starving, desperate, living on the streets of San Diego with her sister, Action Ace, when handler James Wall rescued her. These days, Faith is a competitor in the Iron Water Dog Challenge, where the best all-around dock diver, dog surfer, and swimmer struts away with a cash prize.
But, Faith is a Pit Bull. And the odds were against her, and now she is representing West Coast Bully Breeds everywhere, as she challenges East Coast Surfing Champion Booker D. Surfdog in the Dog Pro. Cocoa Beach, whose very history is intertwined with surf history, does not disappoint. The Dog Pro Judging panel, affectionately called by locals, "the Slater Tower", and manned by Sean Slater, Surfing Legends Joe Twombley & Tom McDevilt, Mary Ann Hayes, Florida Today's own Luann Manderville, and guest appearances Saturday by Cocoa Beach Police Captain Scott Rosenfeld and Sunday by Brevard County Sheriff Wayne Ivey will be making sure that all dogs, amateurs and professionals, are tabled fairly.
If a celebration of Dog Surfing isn't enough for you, then come to the park to enjoy world famous Disc- Connected K9's. This "pawmazing" team of dogs has made 49 World Final Frisbee appearances.
There will be a serious air show in Cocoa Beach this weekend, especially when the Ultimate Air Dogs, featuring Detroit Tigers 1984 World Series MVP Milt Wilcox, and 40 of the top southern competitors stretching their legs, "when dogs fly."
American Idogs auditions will start 9 a.m. on Saturday morning, with finalists by 2:00 p.m. The Bark to the Future National Canine Performance team will be sharing tricks with audience participation.
Dog competitions are great, but adoptions and rescue are even better. The SPCA of Brevard which is working on making Brevard County a No- Kill county by 2015, will be hosting a wonderful adoption village, featuring an SPCA Dog Beach. Building on the success of Booker D. Surfdog's six rescues over Easter, the show organizers are hoping that rescue becomes a part of Brevard's DNA.
And what would a great event be, without a grand finale concert, by central Florida legends, Delgado, at 5:30 Sunday evening.
Surfdog registration is on fidsc.com. Dog Pro / Am starts at 11:00 a.m. Sat & Sun. Admission for spectators is $5 for adults and kids under 13 are free.
About SPCA of Brevard
The SPCA of Brevard is a private, non-profit organization with the mission of "protecting and providing a voice to the homeless animals of Brevard County." Founded in 1979 in Titusville, Florida, the SPCA is the largest private no-kill animal rescue group in Brevard, finding homes for more than 1,300 animals a year. It is the first adoption facility with free-roaming cat rooms in the County, allowing adopters to interact with the cats in a more home-like setting. The SPCA of Brevard Clinic also provides reduced-price vaccines to the public and has performed more than 50,000 low-cost spay/neuter surgeries since 1999.
For more information, visit http://www.spcabrevard.com.