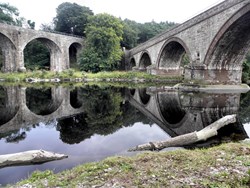 Let's face it, you can't get much for £2 these days- unless you're lucky enough to be in at the start of a major ground-breaking Scottish tourism initiative!
Scotland (PRWEB UK) 12 November 2013
In the month that saw Scotland named as one of Lonely Planet's Top 3 must-visit destinations (only Brazil and Antarctica are considered to have more charms), Scotland Audio Trails has launched its Kickstarter crowdfunding bid to encourage backers to support an exciting new app-based tourist trail project.
With the tagline of '78,722 square kilometres of facts and folklore', the company plans to enable anyone travelling through Scotland – or around its coastline – to build their own audio trail so they can listen, as they travel, to a commentary identifying the many local landmarks, as well as recounting tales of the history and legends of the area concerned.
Based in the tiny west highland village of Strontian, near Fort William, the initiative draws on the latest technological advances, including voice production techniques, to construct a comprehensive network of audio points, enabling users to create a bespoke audio trail to suit their particular travel arrangements.
Visitors to the area – and interested locals – will be able to download audio trails for a nominal fee, expected to range from 50p for a simple trail featuring a few relevant audio points to a maximum of £2 for a trail featuring several hundred information points.
They will download a free App from the Appstore or from Googleplay before using the website http://www.scotland-audio-trails.co.uk which enables people to build their own audio trails, based around their route, or choose from a selection of pre-built trails, eg. the route from Glasgow to Perth.
In a bid to raise the £92,000 funding needed to finance the project, the Kickstarter campaign will run until 11 December with backers encouraged to contribute anything from £2 to £5000 towards the project. (See Scotland Audio Trails for details of the various rewards available to backers.)
Researcher Katrina McDowell, who has extensive knowledge of the Scottish tourism industry and will head-up the project, said:
''Glimpsing a view through the window of a bus, how often do visitors wonder the height of a mountain, the depth of a loch, the name and history of a castle?''
''As they travel by car or even walk around a village, do they wonder about the meaning of a sculpture or monument?''
Katrina explained:
''Whether travelling by car or public transport, a traveller will be able to turn on their smartphone's GPS and listen to the commentary which plays when they approach an audiopoint.''
''There is no need for a phone connection while travelling as the trails can be downloaded in advance. The beauty of this is that if you're outside in bad weather, you can just put the phone in a pocket and listen through an earphone.''
She added: ''I believe this is the first time a major Scottish tourism project has been funded through Kickstarter''
With the Commonwealth Games in Glasgow, Ryder Cup and Year of Homecoming all taking place in 2014, Katrina and her fellow researchers hope to get things up and running in late December.
For your chance to play a part in getting this exciting new project off the ground, please see:
the Kickstarter campaign for more information.
Editor's notes:
Alternative International headline:
'Scottish Descendents Can Make Scotland Audio Trails Crowdfunding Bid a Success'
Our colleagues and technical advisors:
Voices from CereProc
APPs from Sonic Maps
Download processor from SendOwl