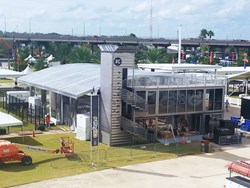 If you are looking to create a great fan experience this is the way to do it!
Jacksonville, FL (PRWEB) November 01, 2013
Arena Americas is in Jacksonville, FL this weekend teaming up with IMG College and Boxman Studios to create the Playmaker's Club, an ultimate tailgating experience at the Florida-Georgia football game. The Playmaker's Club is a three-story structure constructed out of decommissioned shipping containers and a large clearspan tent. The space is climate controlled and will feature several bar and lounge areas, a live band, numerous LED flat screens, and a 20' jumbotron.
Professional as well as college sports venues are always looking for ways to take their fan experience to the next level while generating more revenue for their programs. "These kinds of structures and events will be more popular as colleges as well as pro-sports strive to give their fans the best experience possible at their games," said Jim Koza, Sr. VP of Sales and Marketing at Arena.
Arena Americas is providing a 20m x 15m (66' x 50') arcum clearspan structure with clear wall to cover the center of the space. Arena also designed a custom, one-of-a-kind clear vinyl top with the addition of a gray mesh allowing for a semi-shaded atmosphere while still allowing sunlight to enter the tent.
The structure is making its debut at the Florida-Georgia game on November 2nd in Jacksonville, FL and will then travel to Pasadena, CA for the Rose Bowl on January 1st and the BCS Championship Game on January 6th.
Arena Americas, formerly Karl's Event Services, is a division of the Arena Group, a Global leading provider of temporary structures, seating, design and overlay services to support delivery of live events such as the London Olympics, Wimbledon, and Abu Dhabi Formula 1.
Arena Americas has been in the US since 1966 and supports a variety of events including some of the most prestigious sporting, corporate, and private events in the country including NFL Super Bowl, Mercedes-Benz Fashion Week, PGA and NASCAR.