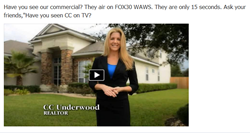 Jacksonville, Florida (PRWEB) November 01, 2013
Throughout the month of November, Jacksonville's local Fox affiliate, Action News Jax, will be airing two fifteen-minute TV commercials featuring Keller Williams Jacksonville Realty's CC Underwood. The commercials feature Underwood speaking about both the Homes for Heroes program as well as her "Guaranteed Sale" program that are geared toward potential home buyers and sellers in the Jacksonville area.
As a local affiliate of the Homes for Heroes program, Underwood hopes to serve the large military community of nearby Mayport Naval Base, as well as teachers, police officers, firefighters, and healthcare workers who may also take advantage of the program. Founded in the aftermath of the September 11th terrorist attacks, affiliates of the Minneapolis-based Homes for Heroes give back twenty-five percent of their gross commission back to the 'Hero' whenever they buy or sell a home through them as their realtor. To date, the program has given back over $3 million nationally.
In addition to this generous rebate, Underwood also offers home sellers a guarantee that the home will be sold within 60 days or it will be sold free of commission. While this program has its guidelines to ensure sellers are marketing their homes properly, it has been wildly successful.
If you're in the Jacksonville area, be sure to tune into Action News Jax,(WAWS Channel 30,) to catch the Sellin' With CC Team's commercials, or simply visit and 'LIKE' the Sellin' With CC Team's Facebook page here: [https://www.facebook.com/JacksonvilleHomesForSale