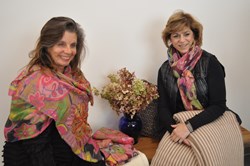 Needham, MA (PRWEB) November 04, 2013
Local female entrepreneurs Pam Kubbins of Wellesley, owner of Pam's Pashminas and Exotic Scarves and Luanne Perrera of Medfield, owner of Lufina Wovens are teaming up to host a fun and festive day of shopping on Wednesday, November 6, 2013 from 12pm until 8pm at the Varier furniture showroom located at 460 (rear) Hillside Avenue in Needham, MA. A portion of the proceeds will benefit the Wellesley based charity Women of Means, an organization providing free medical care to women in need.
Lufina Wovens (lufinawovens.com) is the creation of husband and wife team, Luanne and Mike Perrera, who share a passion for all things beautifully made and simply luxurious. As a result, they have curated a collection of some of the finest home textiles from around the world. Shop for a Cause marks the launch of this brand new business venture.
Pam's Pashmina's and Exotic Scarves (pamspashminas.com) is a collection of scarves and shawls from around the world including the United States, Turkey, India, China, Argentina, Ukraine, Egypt, Nepal and Liberia. Owner Pam Kubbins travels the globe seeking exquisite craftsmen and exotic fabrics resulting in gorgeous and unique pieces at affordable prices.
Women of Means (womenofmeans.org) was founded in 1999 by Roseanna H. Means, MD to "improve the lives of women who are homeless or marginally housed through quality healthcare, education and advocacy." Today a team of over 20 volunteers and paid medical professionals work to improve immediate access to healthcare for the Commonwealth's poorest women and children.
Shop for a Cause will feature beautiful home and fashion textiles from both Lufina Wovens and Pam's Pashminas. The event will run from 12-8. Light refreshments will be served. Admission is free. There is ample free parking at the Varier Showroom at 460 Hillside Avenue, Needham. For those unable to make the event, use code MEANS13 on lufinawovens.com and pamspashminas.com, a portion of those sale proceeds will also benefit Women of Means.