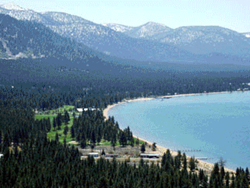 VirtualTahoe.com has put together a list of the best activities for Thanksgiving weekend in Lake Tahoe.
Lake Tahoe, CA (PRWEB) November 05, 2013
The tastiest day of the year is coming up in just a few weeks, so escape to the mountains and enjoy the long weekend in Lake Tahoe! Snow or no, there will be many things to do over the long weekend, so VirtualTahoe.com has put together a list of the best activities for Thanksgiving weekend in Lake Tahoe.
Heavenly Gondola - View from Above
Whether it's snowy or not, a ride on the Heavenly gondola gives visitors a bird's eye view of the beauty of Lake Tahoe. Stop at the Observation Deck for breathtaking views of the lake. There is no better way to see incredible Lake Tahoe than from the sky.
Lake Tahoe Yoga - Svadhyaya Yoga Studio
Lake Tahoe is a mecca of relaxation and healing, so take advantage of the long weekend and book a yoga session at Svadhyaya Yoga Studio. Whether a yogi beginner, or as stretchable as gumby, this Lake Tahoe yoga studio makes yoga classes level appropriate and fun. Specialty classes include CrossFit and yoga combined, yoga for mommies to be and yoga 101.
Crafts for Christmas - At the Nugget
Sled on down to Reno for the day and enjoy the annual Crafts for Christmas at the Nugget. Taking place Nov. 29 - Dec. 1, this free event brings the holidays early and gives families the opportunity to shop for holiday gifts without venturing into the chaos of Black Friday at the mall. More than 100 craft and gift booths will be set up, Santa will be around, and kids activities galore!
Tours in Tahoe
Hop on a classic Lake Tahoe tour over the long weekend. From a sunset dinner dance cruise to a Lake Tahoe carriage ride, this Thanksgiving gives travelers the opportunity to see the lake from a new angle. Tours range from $20 to $71 depending on length and type of tour.
Chow Down at the Best Restaurants
There are so many Lake Tahoe restaurants to choose from, and though stomaches might be completely stuffed with turkey, the editors of VirtualTahoe.com have a few favorites to try after the big turkey feast. Fresh Ketch provides elegant waterfront seafood dining, and The Cantina Bar & Grill is a Mexican food favorite. Don't fill up on Thanksgiving leftovers (save those turkey sandwiches for the drive home), and try a Lake Tahoe restaurant classic!
Skiing - Weather Permitting
Everyone has their fingers crossed for a heavy snow season this year, and hopefully that snow will start in time for the long Thanksgiving weekend. Most mountains plan to be open during the long weekend, so everyone should be doing the snow dance in preparation! Be sure to be the first on the slopes this season over Thanksgiving weekend in Lake Tahoe.
About VirtualTahoe.com:
VirtualTahoe.com, Lake Tahoe's number one online guide, provides quality information on all things Tahoe. Use VirtualTahoe.com to find information on everything Lake Tahoe from vacation lodging and casinos to ski resorts and boat rentals.