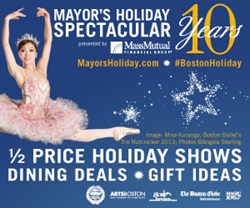 'The holiday season is one of my favorite times of year to be Mayor of Boston,' said Tom Menino.
Boston, MA (PRWEB) November 01, 2013
Mayor Thomas M. Menino today announced the launch of the 10th Anniversary of the Mayor's Holiday Spectacular presented by Massachusetts Mutual Life Insurance Company (MassMutual) offering over 25,000 half-price tickets to more than 120 of the region's most beloved holiday performances as well as exclusive dining deals and gift ideas. The Mayor's Holiday Spectacular, created in partnership with the non-profit organization ArtsBoston and the Greater Boston Convention & Visitors Bureau (GBCVB), is the go-to resource for the complete Greater Boston holiday experience. The program runs November 1, 2013 through January 1, 2014.
"The holiday season is one of my favorite times of year to be Mayor of Boston," said Tom Menino. "Our cultural organizations make our neighborhoods sparkle, encourage communities to come together, and put smiling faces on millions of our residents and visitors. I welcome you to experience the original Broadway cast of Tony Award® nominated A Christmas Story, The Musical presented by Citi Performing Arts Center, the 160th annual performance of Handel Messiah by Handel and Haydn Society, or the Boston premiere of A Little Princess presented by Strand resident company Fiddlehead Theatre."
Since its inception, The Mayor's Holiday Special (renamed Spectacular in honor of the 10th Anniversary) has welcomed more than 100,000 people to holiday shows – enough to fill Symphony Hall 40 times – saving ticket buyers more than $5 million and reinvesting the same amount back into the arts community. This year's offering of half-price holiday shows also includes: The Nutcracker presented as part of the 50th season of Boston Ballet, It's a Wonderful Life, A Live Radio Play at Wheelock Family Theatre, Anthony William's Urban Nutcracker, and over 100 more performances.
"ArtsBoston is honored to have partnered on the Mayor's Holiday Special over the past ten years," said Catherine Peterson, Executive Director of ArtsBoston. "To celebrate, we are officially dedicating the Mayor's Holiday Spectacular to Mayor Thomas Menino and his wife Angela in honor of their 20 years of service to the Boston arts community."
A full calendar of free and low cost festivities is also featured along with a $10-off restaurant voucher with more options than ever before. The half-price ticket quantities are limited, and allotments change daily, so the public is encouraged to visit early and often. And since there's no place better than Boston for the holidays, share your holiday spirit by including #BostonHoliday on Facebook, Twitter and Instagram. ArtsBoston will be giving away holiday tickets all season long to those that use the hashtag often.
"Attending a live performance is a fantastic way to get together with friends and family during the holidays. What's more, taking time to enjoy the amazing array of live arts offerings, restaurants and hotels throughout Greater Boston allows you to share an experience that is totally unique to our region," said Pat Moscaritolo, GBCVB President & CEO.
About the Mayor's Office of Arts, Tourism & Special Events
The Mayor's Office of Arts, Tourism & Special Events fosters the growth of the cultural community, promotes public participation in the arts and public celebrations, and advances cultural tourism in Boston.
About ArtsBoston
For more than 35 years, ArtsBoston has championed the local arts community by connecting people of every age and background with the cultural organizations that call Greater Boston home. ArtsBoston serves more than 170 arts organizations in theatre, music, dance, visual arts, comedy, and family programs throughout Greater Boston by helping them grow audiences, providing strategic and capacity-building resources, and serving as a collective voice for the arts. In addition to its comprehensive arts event calendar, programs of ArtsBoston include BosTix and the ArtsBoston Audience Initiative.
About the Greater Boston Convention & Visitors Bureau
The Greater Boston Convention & Visitors Bureau (GBCVB) is the primary private sector marketing and visitor service organization charged with the development of meetings, conventions and tourism-related business. Its goal is to enhance the economy of Boston, Cambridge and the metropolitan area. BostonUSA.com
About MassMutual
Founded in 1851, MassMutual is a leading mutual life insurance company that is run for the benefit of its members and participating policy owners. The company has a long history of financial strength and strong performance, and although dividends are not guaranteed, MassMutual has paid dividends to eligible participating policy owners consistently since the 1860s. With whole life insurance as its foundation, MassMutual provides products to help meet the financial needs of clients, such as life insurance, disability income insurance, long term care insurance, retirement/401(k) plan services, and annuities. In addition, the company's strong and growing network of financial professionals helps clients make good financial decisions for the long-term. MassMutual Financial Group is a marketing name for Massachusetts Mutual Life Insurance Company (MassMutual) and its affiliated companies and sales representatives. MassMutual is headquartered in Springfield, Massachusetts and its major affiliates include: Babson Capital Management LLC; Baring Asset Management Limited; Cornerstone Real Estate Advisers LLC; The First Mercantile Trust Company; MassMutual International LLC; MML Investors Services, LLC, Member FINRA and SIPC; Oppenheimer Funds, Inc.; and The MassMutual Trust Company, FSB. For more information, visit MassMutual.com or find MassMutual on Facebook, Twitter, LinkedIn, YouTube and Google+.