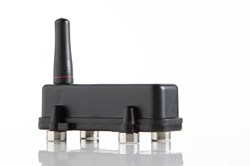 The Orion asset tracking network is undoubtedly set to turn the market on it's head.
Bournemouth, Dorset (PRWEB UK) 5 November 2013
The Prime Minister, David Cameron, and Chancellor of the Exchequer, George Osborne, announced in the summer of 2012 that a high-powered team from leading high tech companies would be representing the UK in India during 2013.
 
M2M Group, an alliance of several cutting edge high tech SMEs being represented in India by New Forest Communications and Tracks360, were selected by the government's UKTI department to attend this high level push from Great Britain's most exciting and most talked about technical companies to boost technology exports to India. Jonathan Olliff-Cooper, founder of Tracks360 Ltd, one of the companies driving the M2M Group forward in 2013, was chosen to present the Group's market leading asset tracking products.
 
In India, Jonathan was able to promote the Group's remarkable new-to-market asset tracking system and security network - Orion which, by reducing costs and removing the requirement for M2M SIM cards, is shaking all existing UK GSM tracking market paradigms. The highlighted features of these micro tracking devices include: near real-time reporting every 30 seconds, GPS RFID tags as small as an AA battery, three to five years battery life per charge, no SIM, no ongoing cost, motion sensors, 3D accelerometer, temperature reporting and GPS for pinpoint accuracy. The network can operate over Ethernet, 3G, or satellite - and even run on solar power for truly global drop-in network connectivity. In addition to various military uses, current Orion applications include the tracking of black Rhinos of Tanzania, and empty property management across Europe. Orion is clearly a stunning global breakthrough in this market for the UK and it was no surprise when it received an overwhelmingly positive response in India.
 
Having received a comprehensive itinerary from the UKTI, it was clear this major initiative would include a punishing week of high level meetings and travel, mixing with some of Asia's most powerful and influential people - from the High Commissioner of India, to serial entrepreneurs worth hundreds of millions of dollars. Having selected the team from thousands of applicants, the UKTI was also expecting spectacular results.
 
Meetings and presentations at the highest level were arranged through the UKTI and TATA mentoring partnership in Pune and Mumbai. There were visits to TATA consulting, TATA Telecom, and numerous other globally important companies, considered to be perfect potential partners for the British SMEs high level technologies.
 
The Orion network stole the show, and saw Jonathan Olliff-Cooper in great demand from Indian interests at the highest possible level. This groundbreaking technology from the M2M Group has successfully stamped its vision on the Indian marketplace. It impressed at every event, with many companies now interested in investment within India and rolling out its asset tracking capability.