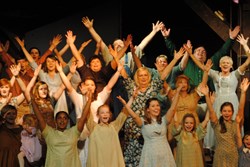 Colquitt, GA (PRWEB) November 03, 2013
The Colquitt/Miller Arts Council is hosting a "Jewels and Jeans" Dinner and Auction on Saturday, November 9th at Long Branch Lodge in Colquitt. Attendees will enjoy a low country boil to the live music of Bell and Lane. In addition to the live auction, there will be several items on silent auction as well.
Items up for bid include a one-of-a-kind Swamp Gravy T-Shirt quilt, featuring t-shirt designs from years past; half-day quail hunts from Blue Springs and Southwind Plantations, several weekend getaways to various destinations, and unique art items. All proceeds from the auction benefit Arts Council programs such as Swamp Gravy, the CMAC Youth Theater, and New Life Learning Center.
In the event of rain, the Dinner and Auction will be held at Cotton Hall.
The Colquitt/Miller Arts Council has two other fundraisers coming up this season. The Colquitt Holiday Tour Of Homes will be held on December 7th from 12:30-4:30 PM. The tour features 5 homes in the area. Tickets can be purchased as a discounted package with the Donalsonville Tour of Homes, to be held December 8th.
CMAC is also raffling off a Green Egg, graciously donated by the Albany Tractor Company. The drawing for the egg will be held during the final performance of A Very Merry May-Haw Christmas on December 8th.
Tickets for all events are available at Market On The Square. For more information, please call Market at 758-8480 or Cotton Hall at 758-5450.