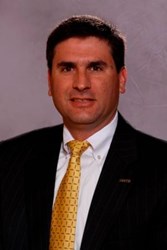 Arlington, Va. (PRWEB) November 01, 2013
HNTB Corporation, a leading infrastructure solutions firm, has named Nick Antonucci, PE, vice president, as mid-Atlantic district leader and Arlington office leader. In this role, Antonucci will have overall responsibility for operations and client relations in Virginia; Washington, D.C.; West Virginia; and Maryland. HNTB employs approximately 170 professionals in multiple office locations across this rapidly growing region.
Antonucci is based in the firm's Arlington, Va., office and has more than 14 years of experience in the planning and design of major highways, freeways and interchanges. Since joining HNTB in 2007, he has held successive leadership roles, most recently serving as the mid-Atlantic deputy office leader, office delivery manager and sales manager.
"Nick has always put forth the right vision, energy, and strategies to position HNTB for success in the region," said Michael Inabinet, PE, Southeast Division president. "I'm confident that Nick's commitment will drive continued growth as the mid-Atlantic grapples with complex infrastructure challenges."
Antonucci has been involved in a number of major transportation projects during his tenure at HNTB, including the Interstate 95/I-395 HOT lanes public-private partnership project along 36 miles of freeway in northern Virginia, the 495 Express Lanes, and the replacement of the 11th Street Bridges and construction of new interstate connections between District of Columbia Route 295 (Anacostia Freeway) and I-695. Currently, the $300 million 11th Street Bridge project is D.C.'s largest infrastructure project and is ahead of schedule.
Antonucci also is an experienced highway safety researcher with an emphasis on utilizing research to support analysis of design decisions, and has led or participated in significant research efforts for the Federal Highway Association, the National Cooperative Highway Research Program, and State Departments of Transportation across the country.
He earned a Bachelor of Science in civil engineering at Pennsylvania State University, and he is a member of numerous professional organizations, including Transportation Research Board, Institute of Transportation Engineers, Federal Highway Administration's Association National Agenda for Intersection Safety and the Virginia Section of the American Society of Highway Engineers. He also is active with the International Bridge, Tunnel and Turnpike Association.
About HNTB
HNTB Corporation is an employee-owned infrastructure solutions firm serving public and private owners and construction contractors. With nearly a century of service in the U.S. and more than 60 years in Virginia, HNTB continues to grow in size and service offerings to clients from three office locations in the state, currently employing approximately 125 full-time professionals. HNTB understands the life cycle of infrastructure and addresses clients' most complex technical, financial and operational challenges. Professionals nationwide deliver a full range of infrastructure-related services, including award-winning planning, design, program delivery and construction management. For more information, visit http://www.hntb.com.