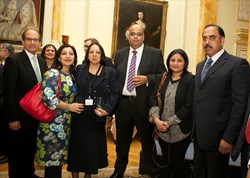 London, UK (PRWEB UK) 1 November 2013
Prime Minister, David Cameron gave a speech on the significance of Eid ul Adha, the new initiatives he is launching to make London one of the world centers of Islamic finance, and overseas aid. The Reception was held in the Pillared Room & Terracotta Room.
Aina Khan was invited in recognition of her pioneering work on Muslim family law issues and her role as a leading influence in the Muslim community. In the coming year, Aina will be attending a series of Road shows round the UK highlighting unregistered 'Nikahs' (Muslim marriages) and the legal problems that arise. Aina is inviting those who wish to be involved in this work to contact her.
About Duncan Lewis
Duncan Lewis, established in 1998, is the largest civil legal aid practice in the UK and one of the country's fastest growing firms of solicitors, serving both corporate entities and private individuals from 34 offices across London and throughout the UK. A recommended leading law firm by Law Society Lexcel, Legal 500 and Chambers UK; Duncan Lewis employs over 500 members of staff and was the first law firm to achieve the Investors in People Gold Quality Standard Mark in 2009. Representing over 25,000 clients per year, the company has an excellent reputation in the Administrative Court, High Court and Court of Appeal in the Immigration, Public law and Family/Child Care jurisdictions.
Established areas of law are: business immigration, child care, civil liberties, clinical negligence, community care, crime and fraud, dispute resolution, debt and insolvency, employment, family and divorce, housing, asylum and immigration, litigation, mental health, personal injury, prison law, professional negligence, public law and administrative law,
regulatory matters and welfare benefits.
For more information please visit http://www.duncanlewis.com or contact Practice Director Jason Bruce on jasonb(at)duncanlewis(dot)com.