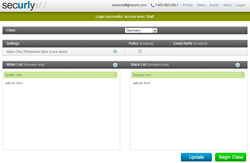 Teachers know what is good or bad for their classroom, and they should be allowed to make that decision
Santa Clara, CA (PRWEB) November 02, 2013
Securly Inc., is pleased to announce its launch of "Securly for Teachers", a tool that will give educators more control than ever in their 1:1 classrooms. This new service will make its debut on November 2nd at the EdSurge Tech for Schools Summit in Mountain View. Securly is one of 30 companies chosen to participate in this event for educators throughout Silicon Valley.
As an increasing number of schools adopt 1:1 programs, classroom management is becoming a legitimate challenge for teachers. Devices like Chromebooks and iPads can play a vital role in empowering students, but only if they are used in constructive and meaningful ways.
Social media and educational games are fundamental requirements for the 21st century classroom, yet teachers often find themselves frustrated by web-filters that block valuable educational content. Despite the best efforts of IT admins, explains Securly co-founder Bharath Madhusudan, filters will still block sites that teachers and students want to access. "Previously the only recourse was to file a request to IT to unblock the site. This takes time, and leads to a loss of productivity in class," says Madhusudan.
With "Securly for Teachers", educators have a classroom level view that was previously available only to the Director of IT or the district CTO. Teachers can see in real time which websites students in the classroom are visiting, with the ability to blacklist, whitelist, or lockdown these sites at their discretion. Securly redefines classroom management for teachers by allowing them to: (1) block sites that are classroom distractions, (2) permit sites that empower their students, and (3) lockdown to a specific website to get students focused on the task at hand e.g. for an online test.
"Teachers know what is good or bad for their classroom, and they should be allowed to make that decision," says Madhusudan.
Securly is a cloud web filter purpose-built for K-12 schools. For more information about Securly and its services, visit http://www.securly.com or call 1-855-SECURLY.