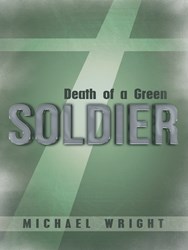 It is a story so many are living even today.
Albuquerque, N.M. (PRWEB) November 04, 2013
Sex, drugs and rock 'n' roll were commonplace in the '70s, but they are not usually what comes to mind when thinking of the military. Michael Wright reveals an unseen side of his own life in the Army in his new book, entitled "Death of a Green Soldier".
Wright's protagonist, Mark Welch, is a young man who enters the military hoping to experience more of the world but finds more than he bargained for. The novel follows Mark through many struggles while stationed in Germany and upon his return to the United States.
"In many ways, it is my story," Wright explained. "Yet in other ways, it is a story so many are living even today."
Although the events and characters in the book are fictional, the novel is based on Wright's own true story of military service during the Cold War, drug addiction and redemption. The author hopes to turn Mark's story into a series.
"Death of a Green Soldier"
By Michael Wright
ISBN 978-1-4497-9798-0
Available for purchase at Amazon, Barnes and Noble and Westbow Press.
About the author
After an honorable discharge from the United States Army, Michael Wright earned his master's degree in Secondary Counseling and worked with troubled teens for more than 20 years. He currently resides in Albuquerque, New Mexico.
EDITORS: For review copies or interview requests, contact:
Courtney Alvey | 317.602.7137 | calvey(at)bohlsengroup(dot)com
(When requesting a review copy, please provide street address.)