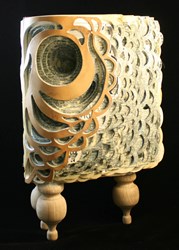 The altered books tell new stories.
Maitland, FL (PRWEB) November 03, 2013
The Art & History Museums – Maitland (A&H) opens a new exhibition titled Ex Libris: Altered Book Sculpture by Dawn Rosendahl, on Friday, November 29, 2013 at the A&H's Maitland Art Center Galleries, 231 W. Packwood Avenue, Maitland, FL. The exhibition continues through January 5, 2014. An Opening Reception is held on Friday, December 13, from 6:00 to 8:00 PM at the A&H's Maitland Art Center. Reception admission is $5; A&H members receive free admission.
Rosendahl, an A&H Artist-In-Action, transforms everyday books into lasting sculptures, resurrecting them as they become obsolete in this age of new media. Working with books like blocks of wood, Rosendahl alters them into stunning, surrealistic masterworks. She discusses her works in her artists' statement: "The altered books tell new stories; continents, countries, and highways in an atlas shift into another world; history books are rewritten with the stories they tell; and words in an encyclopedia are shifted and layered into new meaning."
A native of San Diego, California, Rosendahl began to draw at an early age. She enrolled in private oil painting classes in middle school and attended a commercial arts high school. Rosendahl continued her art studies in Chicago at the American Academy of Art, where she earned a degree in illustration and the Art Institute of Chicago. After art school, she moved to Orlando where she became a Walt Disney World sculptor and master mold maker. In 1989, she opened a scenic design company with her life partner. For the last fourteen years, she has concentrated on her fine art full time. She has received many awards for her art, and recently received a United Arts 2013 Artist Development Grant. Rosendahl's art is collected throughout the United States, Canada, Europe, and Australia, and has been exhibited in galleries and museums throughout the country.
The A&H's Maitland Art Center Gallery hours are Tuesday – Sunday, 11:00 AM - 4:00 PM. Admission is $3.00 for adults; $2.00 for seniors (55 & older) and for children (4-18 years). A&H Members and children (3 & under) are free.
For additional information, visit http://www.ArtandHistory.org or phone 407-539-2181.
About the Art & History Museums - Maitland:
The Art & History Museums – Maitland (A&H) is a premier Central Florida cultural institution and community gathering place, combining the best of both art and history. Its unique architecture, beautiful gardens, quality exhibits and programming, and two sites listed on the National Register of Historic Places make it a must visit cultural destination. Our museums offer unparalleled opportunities for enrichment and inspiration. Programming includes art classes and workshops, hands-on history programs, interactive exhibits, professional artists working in their studios, and much more. Our two campuses include a 1937 artists' colony with Aztec and Mayan architectural influences, a Victorian house museum, a working antique tool museum, an interactive telephone museum, and a local history museum. There is something for everyone and each experience is well worth the trip.
The A&H's Maitland Art Center hours are Tuesday – Sunday, 11 AM – 4 PM. The A&H's Maitland Historical Museum, Telephone Museum, Waterhouse Residence Museum and Carpentry Shop Museum hours are Thursday – Sunday, 12 – 4 PM. Visit us online at http://www.ArtandHistory.org.
# # #