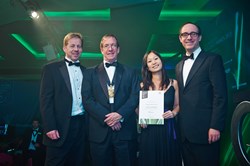 Sherrards demonstrated an ambitious and strategic approach to international business development, developing a global alliance and engaging with a range of actors, from bar associations to governments, in order to promote the firm as well as English law
London, UK (PRWEB UK) 7 November 2013
Hosted this year by BBC broadcaster Mishal Husain, the awards are a highlight of the legal calendar and recognise outstanding achievement in areas that are central to the legal profession.
Over the last few years, with the support of UK Trade & Investment (UKTI), the medium sized firm has assembled an impressive International Services team staffed by experienced lawyers and led by Head of Commercial Litigation Paul Marmor. The firm's lawyers handle a wide range of cross-border work and are involved in various high profile international corporate responsibility initiatives, both factors that caught the eye of a prestigious panel of judges.
"Sherrards has demonstrated an ambitious and strategic approach to international business development, developing a global alliance and engaging with a range of actors, from bar associations to governments, in order to promote the firm as well as English law," was the view of the judges as reported by the UK's main legal trade paper The Law Society Gazette.
An ability to attract internationally savvy legal talent to the firm and leverage involvement in leading global professional services alliance Alliott Group enabled the firm to leapfrog larger international law firms to the 'Highly Commended' award in the Exporting Legal Services category. As well as advising on high profile matters such as American Team Bean's acquisition of Home Win and the establishment of Forever Collectibles as a major supplier of football products to all of the UK's top teams, the firm has proven its credentials as a real alternative for local, national and foreign SMEs that need ad hoc cross-border support, but prefer a more personal approach to that offered by London's global mega firms.
Law Society recognition demonstrates the firm has carved out a niche as one of the 'go to firms' for both domestic companies seeking to export their high quality products and services to an increasingly receptive overseas market, and also to overseas companies trading in the UK.
Involvement in the World Bank 2014 Doing Business guide and the UKTI's Open to Export initiative has helped the firm to sharpen its international offering, with participation in Alliott Group's 'Giving Back' programme and the 'Friends of Chernobyl's Children' charity demonstrating the firm's commitment to corporate responsibility.
Elizabeth Fehnrich, International Trade Adviser at UKTI, states: "I have been Sherrards' International Trade Adviser since 2009. The firm has successfully participated in two of our flagship export development schemes – the Passport to Export Scheme and, more recently, the Gateway to Global Growth Scheme. The partners and solicitors I have met at the firm are outward looking, proactive and unselfish in their approach. Sherrards are a great example of how a law firm can sell its services overseas with UKTI's help and support."
Sherrards' Paul Marmor observes: "The UKTI provided Sherrards with invaluable support in developing our international capabilities. Furthermore, our involvement at the heart of Alliott Group provides a reliable platform for servicing clients seeking to take advantage of opportunities in overseas markets or who need assistance resolving obstacles to doing business internationally. This industry recognition demonstrates the confidence placed in Sherrards by our clients and peers."
Managing Partner Alasdair McMillin commented: "With regional desks that are capably led by commercial lawyers including Wincy Cheung (China & Hong Kong) and Jean-Paul da Costa (Russia/CIS), as well as an Indian Group and seamless access to Alliott Group member firms in over 80 countries worldwide, we are in a unique position among firms of our size to offer a very real international service to our clients. We are immensely proud of this achievement and the staff who have played their part in the firm's success on the international stage."