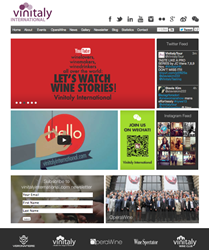 Posts, hash tags and tweets will spread across the World Wide Net offering real time maximum visibility to all producers who have chosen to travel with us to Hong Kong.
Verona, Italy (PRWEB) November 04, 2013
As the numbers of the worldwide online population rise this year to a staggering 2.7 billion, nearly 40% of the world's population (Source: ITU - International Telecommunication Union, 2013, http://tinyurl.com/bwj6arm), it is no surprise that Vinitaly International should look to the Net as the most cost-effective and creative means to pursue its objectives: information, visibility, communication, promotion and education together to offer added value to producers who decide to get on board and take part in Vinitaly's events around the world.
Today Vinitaly International prepares for the upcoming 5th edition of the Hong Kong Wine and Spirits Fair by launching its new Internet site, http://www.vinitalyinternational.com, and consolidating a coordinated social media strategy aimed at helping Italian wine producers acquire visibility and, ultimately, sell one more bottle of wine, Italian Wine.
So, what's new?
On a more technical note, the portal abandons its old format in order to adopt DRUPAL, the most flexible and user adjustable open-source content management framework available on the Internet.
The new intuitive homepage directs users to some of the site's new main features: the original two macro areas dedicated to the presentation of Vinitaly International showcases and OperaWine, Vinitaly's premium tasting event, have been now merged together in the same multiplatform.
In line with Vinitaly International's educational objective, the Statistics section has been expanded to include two main informative areas where users can find updated and detailed data, graphics and statistics from the global wine market.
Most of all, though, the Internet site was thought and designed to embody Vinitaly's strong social vocation: the homepage features direct links to Twitter, Instagram and You Tube whilst the portal's new interactive Blog gathers all the latest news from the world of wine which is shared in real time through direct news feeds on Vinitaly International's many social media channels around the world.
"Social, social, social," emphasizes Stevie Kim when describing this year's media coverage of Vinitaly Hong Kong (7 – 9 November). "Leading up to, during and post-event coverage will consist in a continuous flow of information, photographs, videos, interviews and media campaigns fed directly into our social media channels by a dedicated on-site and off-site media team. Posts, hash tags and tweets will spread across the World Wide Net offering real time maximum visibility to all producers who have chosen to travel with us to Hong Kong. We have launched the Vinitaly Wine Affair campaign in Hong Kong and we plan to extend the love connection into Mainland China from here."
About:
Veronafiere is the leading organizer of trade shows in Italy including Vinitaly (http://www.vinitaly.com), the largest wine event in the world. The 47th edition of Vinitaly counted some 148,000 visitors (+6%), of which 53.000 were international attendees (+10%) visiting from 120 countries. On 95.000 square meters, 4.200 exhibitors welcomed trade professional, media and producers alike. The next instalment of the fair will take place on 6th-9th April 2014. The premier event to Vinitaly, OperaWine (http://www.OperaWine.it) "Finest Italian Wines: 100 Great Producers" will unite international wine professionals on April 5th 2014 in the heart of Verona. Veronafiere also created Vinitaly International http://www.vinitalyinternational.com in 1998 to develop a global platform for the promotion of companies in the Italian wine and food sectors.