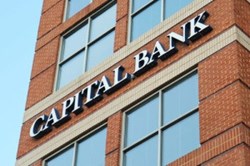 Washington, DC (PRWEB) November 05, 2013
As part of its Thinking Ahead Business Series , Capital Bank is holding an event discussing the impacts of the Affordable Care Act on businesses and how they can prepare for these changes in legislation. The Thinking Ahead Business Series is designed to bring industry leaders and experts to the business community through an informative and interactive series of events addressing the top of mind issues for business owners.
The upcoming event, The Future of Health Care: What to Expect & How to Prepare Your Business will take place on Thursday, November 21st at the Bolger Center starting 3:30pm. Capital Bank understands that most businesses may not be aware of the implications of the latest changes in national health care, that's why they are bringing together key leaders from within the health benefits industry to share information on what business owners can expect from this new legislation as well as the impact of delays, and help them understand the important decisions they will have to make.
As an interactive seminar it features a panel of experts led by Janet Trautwein the CEO of the National Association of Health Underwriters, considered an expert in the health insurance markets industry, key members of the DC Health Benefit Exchange Kelvin Robinson the Director of Business Development and Katrina Reynolds the Manager for Producer Relations; as well health benefit consultant Scott Golden, Principle at NFP Golden & Cohen LLC. Anyone who wishes to attend the event should visit http://www.thinkingahead.capitalbankmd.com and RSVP on the registration page.
About Capital Bank:
Capital Bank, a full service commercial bank focusing on the needs of individuals and businesses, is a subsidiary of Capital Bancorp, Inc. A top ranked bank based on performance, Capital Bank is the only bank in Maryland and Washington, D.C. to make the American Bankers Association Journal (ABA Journal) list of top 100 performing community banks in the class of over $100 Million in Assets. With nearly $500 million in assets and branches centrally located in Montgomery County, MD and Washington, DC, Capital Bank offers a full range of banking, mortgage and commercial lending services. Capital Bank helps its customers to grow and prosper with uniquely personalized products and services. To discover what Capital Bank can do for you, visit CapitalBankMD.com.