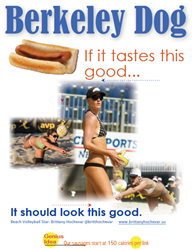 Redondo Beach, CA (PRWEB) November 05, 2013
Berkley Dog Restaurants, whose signature nitrate-free and gluten-free sausage dog menu can be found near UC campuses in Orange County, reached out last week to the growing sport of beach volleyball, which was the biggest draw of the 2012 Olympic Games in London, to launch their new campaign, "If It Tastes This Good, It Should Look This Good."
Owners of Berkeley Dog Restaurants, John Chi and Patty Huang, have strategically paired with professional beach volleyball player, Brittany Hochevar, member of top ranked doubles team on the AVP Tour and 20th in the world on the FIVB Beach Volleyball World Tour.
Professional beach volleyball tours feature bikini uniforms for female competitors; many of them in peak physical condition like Hochevar. The message Berkeley Dog intends to promote is that customers can still have delicious sausage dogs without expanded waistlines.
Hochevar has been chosen as Berkeley Dog's official spokeswoman for the new campaign, and will appear in online and print advertisements across Orange County.
For customers interested in trying Berkeley Dog's nitrate-free and gluten-free dogs, they can visit http://www.berkeleydogs.com You can also learn more about Brittany Hochevar online at http://www.brittanyhochevar.us, Twitter @britthochevar and http://www.avp.com.
Photo Credit: Mpu Dinani/A-Game Photography & Don Liebig
Berkeley Dog Locations
4249 Campus Dr., B148
Irvine, CA 92612
215 W. Birch St. #2
Brea, CA 92821