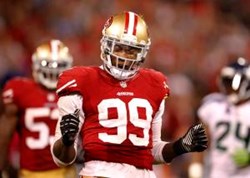 (PRWEB) November 05, 2013
49ers' outside linebacker Aldon Smith's month long stay on the reserve list is now over, as he has been activated to play in the team's game against the Carolina Panthers on November 10th. He would be able to play the weekend of November 3rd, but San Francisco has a bye week.
Smith was placed on the reserve list on September 23rd due to a DUI arrest that came three days before. He was placed on the non-football injury list, meaning he did not sustain injury from practice or a game. Smith then decided on his own to check into a rehab facility for counseling and rehabilitation, a very, wise, important decision. His choice may have helped him when the league takes his actions into account. The fact that he chose rehab and missed five games on his own might be factored into his punishment by the NFL. Instead of suspension, they may just fine him and take another game or two away. While away for rehab, Smith was still paid by the 49ers out of good faith.
Smith is an essential part to San Francisco's defense. The 24 year old has 4.5 sacks in just three games this year, and has an NFL leading sack record of 38 in 2011. Unfortunately, his addiction is not his only problem. Smith was also charged on October 9th with three felony counts of illegal possession of a weapon. Furthermore, in September Smith and a former teammate found themselves in a lawsuit stemming from a party he had at his house where a man was allegedly shot. Smith was also involved in other incidents in the past, and insisted that he would change his ways. Maybe his decision to go into rehab on his own is the beginning of that change.
There was a good reaction by the coaches and mostly by other 49ers players about Smith's return, and it may just be the spark the team needs to finish off a strong season. The 49ers have still have some tough games to play, including ones again the New Orleans Saints and Seattle Seahawks. Ticket Monster has tickets to 49ers games and all other NFL games, and at the best prices on the web. Visit http://www.Ticketmonster.com for your NFL tickets or call 1-88-217-4777 today.