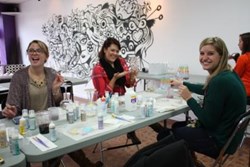 We're all about fun...bring a bottle of wine and some good friends and create art and memories!
Ferndale, MI (PRWEB) November 06, 2013
Ferndale residents looking for a way to get ready for the holiday season and spend time with friends are invited to Inspiration Uncorked. The DIY art studio is offering an exclusive Buy One Get One free happy hour art classes now through November 27th.
Inspiration Uncorked's Happy Hour Ferndale events run Winesday through Friday invites students to arrive at the studio, share their favorite wine or beer with friends, and end their day with a creative hands-on art class. BOGO happy hour classes include silk scarf painting and wine glass painting.
The BYOB metro Detroit art classes are a perfect setting for a low-key and creative evening. Owner Mary Higgins is offering one drop-in class Wednesday, Thursday and Friday from 6:00-9:00pm all month long.
The local art party studio, which recently opened in downtown Ferndale, is a fun and artistic way to relax after a busy day. Inspiration Uncorked classes make a fun night with the girls after work, a memorable birthday or bachelorette party, or a special date night out.
"We're all about fun and creativity," says Higgins. "Bring a bottle of wine and some good friends, and create art and memories. The best part about the BOGO series is that all the art created is not just beautiful; it's useful. You can use the wineglasses you paint at Thanksgiving and wear your silk scarf this winter or gift it for the holidays."
The exclusive drop-in BOGO series is being offered through the month of November. Join Inspiration Uncorked to "un-wine-ed" and get creative. Make a reservation online for 2-6 friends using their coupon codes. For buy-one get-one use bogo, for buy-two get-two use bogo2, or for buy-three get-three use bogo3.
Inspiration Uncorked is an art party studio located in downtown Ferndale, Michigan. With a large selection of open to the public and private classes, Inspiration Uncorked provides everything necessary for a unique and creative night with friends. Learn more at http://www.inspirationuncorked.com, facebook.com/inspirationuncorked, or on twitter at @ferndaleDIYart.