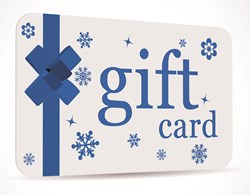 With GiftLogic's redesigned gift card tools, Main Street merchants can tap into the gift card trend.
Englewood, FL (PRWEB) November 03, 2013
GiftLogic is helping retailers gear up for the holidays with its newly designed gift card features. GiftLogic POS (point of sale) software users now have the ability to create and track their own gift cards, bypassing the load and transaction fees associated with Visa and other bank-issued gift cards.
According to a GiftLogic spokesperson, merchants can order branded gift cards from their favorite suppliers or print their own serialized paper gift certificates and then use GiftLogic POS software to load the appropriate monetary value at the point of sale. "You can offer your own custom gift cards this holiday season," she said. "You can also track those gift cards within GiftLogic."
Gift cards are expected to be a hotter than usual item this holiday season. According to Accenture's 2013 Holiday Shopping Survey conducted in September, gift cards top the list of items consumers most want to receive beating out apparel, toys, and electronics. Another 2013 holiday survey by the National Retail Federation found that 59 percent of Americans are hoping to find gift cards under the tree this year.
"With GiftLogic's redesigned gift card tools, Main Street merchants can tap into the gift card trend," the spokesperson said. "We've made it easy for gift card buyers, recipients, and merchants alike. Buyers can now order gift cards at their favorite specialty shops; recipients love and want them; and merchants can quickly ring up sales before and after the holidays. In addition to potentially selling merchandise above and beyond the value of the gift card and avoiding load and transaction fees, merchants can quickly view detailed reports showing outstanding gift card balances." Retailers can gain brand recognition while increasing profits and customer satisfaction. And best of all, this feature is included within GiftLogic software at no additional expense.
About GiftLogic
GiftLogic POS puts big box retailer tools such as its gift card features into the hands of Main Street merchants. The software is user-friendly and constantly updated to include the features retailers need to grow their businesses. Retailers can work more efficiently and affordably with GiftLogic POS; a solution that addresses their needs.