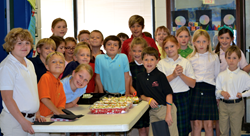 TinySuperheroes seeks to empower extraordinary kids — one cape at a time.
Gloucester, VA (PRWEB) November 04, 2013
At barely 2-years-old, Jacob knows what it's like to fight. You might even call him a superhero. And now he has a cape to show for it.
Jacob, born in Ohio in 2012 with a rare heart disease, has endured three open heart surgeries and spent nearly a quarter of his life in a hospital.
But he keeps on fighting and for that Ware Academy and TinySuperheroes sent him his very own superhero cape. The Seattle, Washington-based socially conscious company provides capes to children battling terminal illnesses to bring them strength during their medical procedures.
Some capes are directly purchased for children. Others are donated. Children can be registered to receive a sponsored cape which comes from one of two sources. For every cape purchased at regular price ($45), TinySuperheroes donates a cape to a child on the sponsored cape waiting list. Also, individuals and groups can raise money to pay for a cape for a child on the sponsored waiting list.
Jacob's cape came courtesy of Ware Academy students.
Led by Ware Academy teacher, Kim Ward, Ware Academy's third through fifth grade students raised money to sponsor two capes, which cost $30 each. The fifth grade students baked cupcakes. The third grade class took advance orders and counted money and fourth graders delivered the orders and staffed a sales table.
Ware Academy's second sponsored cape was for 8-month-old Savannah. Sadly, Savannah lost her fight with Tetralogy of Fallot, which the Mayo Clinic defines as a rare heart condition that combines four heart defects typically present at birth. TinySuperheroes sent her family the cape Ware Academy helped fund in her memory.
By August 2013, TinySuperheroes had provided more than 2,000 capes to children in all 50 states and 15 countries. There is currently a waiting list for children who have applied to receive a cape.
"TinySuperheroes seeks to empower extraordinary kids — one cape at a time," TinySuperheroes founder, Robyn Rosenberger, writes on their web site. "We send capes to extraordinary TinySuperheroes who exemplify strength and determination as they overcome illness or disability. Once these extraordinary TinySuperheroes are comfortable in their new capes, we join forces with them by sharing their stories, in hopes of giving them a voice, their illness or disability a face, and the world the opportunity to stretch."
Learn more about TinySuperheroes at http://tinysuperheroes.com/.
ABOUT WARE ACADEMY:
Located one mile from Main Street in Gloucester's historic Courthouse district on a 19-acre campus, Ware Academy is a co-ed, independent day school for students in Pre-Kindergarten 3 through eighth grade. Ware Academy empowers each student to achieve academic excellence, emphasizing the development of mind, body and character.
The primary objectives are to educate the whole child to his fullest potential and for students to acquire a respect and a desire for learning in order to develop into independent, lifelong learners in preparation for productive and fulfilled lives.
Founded in 1949, Ware Academy is a non-profit, non-denominational, non-sectarian school promoting ethnic and racial diversity. Ware Academy selects students on the basis of academic potential and developmental readiness without regard to race, color, creed, or ethnic origin.
Ware Academy is accredited by the Virginia Association of Independent Schools, the National Association of Independent Schools, and the Education Records Bureau and the Secondary School Admissions Test Board. Ware Academy is also a member of the National Middle School Association, the National Junior Honor Society and the Association of Supervision in Curriculum Development.
Keep in touch with Ware Academy online at http://www.wareacademy.org, on Facebook at /WareAcademy and on Twitter @WareAcademy1.