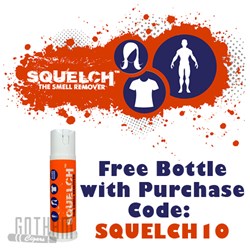 Enter code SQUELCH10 at checkout to receive a free Squelch Smell Remover Bottle with purchase.
Miami, FL (PRWEB) November 04, 2013
Gotham Cigars is giving away 1 bottle of Squelch Smell Remover free with any purchase. Squelch Smell Remover is a new portable odor eliminator that can be used to kill the bad odors found in cars, gym bags, clothes, and so much more. This product is non-toxic which means that it can even be used on skin and hair. At Gotham Cigars one bottle of the Squelch Smell Remover is available for $4.99 which is a 50% lower price than the retail value. However, for a limited time customers can get 1 bottle of Squelch for free, all they need to do is enter the code SQUELCH10 at checkout. There is only a limited amount of this portable odor eliminator in stock, so when they are gone, so is the deal. There is no minimum order needed to qualify for this giveaway, however this offer is only available once per customer.
The Squelch Smell Remover is available in a three pack as well as just a single bottle. The 3 pack of Squelch Odor Remover is available at Gotham Cigars for only $9.99 which is 62% cheaper than the normal retail price. The three pack of Squelch Smell Remover is a great value pack because when three bottles are purchased at a time, the saving are $1.66 per bottle. Each bottle is 1oz and is so compact it can be taken on the go for any odor that may come.
Squelch uses an OdorBreak Technology that eliminates odors on the spot by breaking up the molecules that cause the odor rather than just covering them up with perfumes. Squelch is perfect for on the go odors because it is small and compact making it very portable so keep it in your gym bag, purse or pocket. Cigar smokers know that once the cigar is finished, the smell still lingers, but with the Squelch Smell Remover, just spray it on hands, clothes and hair to get rid of the pesky smoke smell. While Squelch can be used pretty much anywhere, do not spray it on anything that is going to be ingested, especially not directly on cigars and or cigarettes.
Gotham Cigars offers customers one of the country's largest and freshest selections of premium cigars, Machine Made Cigars, Filtered Cigars and Humidors. Gotham Cigars has received five-star ratings by the most trusted online comparison websites for its huge selection, fast shipping and great customer service; Gotham Cigars has become a favored destination for buying cigars and accessories online in the US. All of their products have been thoroughly inspected by their manufacturers prior to arriving at the facility to ensure the highest quality for their customers. To learn more, visit http://www.gothamcigars.com.