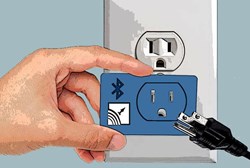 Monitoring provides knowledge.
Amherst, NY (PRWEB) November 03, 2013
Esensors Inc. is developing a non-contact AC power meter with logging capability and read by smart phone. It is aimed at home/office energy and screen time monitoring.
This non-contact power meter is slipped onto the plug for the appliance or other electrical load being monitored. The load voltage, current and power are continuously monitored and the time of changing loads logged. The logged data is read and analyzed by a smart phone or tablet via Bluetooth. It is deal for monitoring screen time of a TV, video game or PC and also is valuable for establishing energy usage of appliances, including phantom loads. The development will be supported as a crowd-funded project hosted by Indiegogo. Wi-Fi will be an added option as a stretch goal.
It is a thin, credit card size meter which slips over a plug. Both AC current and voltage measured without contact with the electrical leads (patent pending technology). Both immediate power and averaged power logged over days or weeks is available. It is capable of point-of-load metering for the smart grid.
Interested parties can support the development by providing funding through advance payments as a crowd-funded project hosted by Indiegogo. One meter will be provided as a perk for $49 ($69 list). Contact Indiegogo for the Wireless Non-contact Power Meter project or see the Esensors website at http://www.eesensors.com/crowdfunding2/?___store=default.
Esensors Inc. is an electronic sensor development company established in 2000 by D. Wobschall. Its long-term goal is to develop, manufacture and market smart wired and wireless digital sensors with network capabilities. A current focus is on sensors for the smart grid and smart buildings. It supports sensor standards development, especially for IoT. Because of a close relationship with the University of Buffalo the company has access to a high level of expertise in the area of electronic engineering.