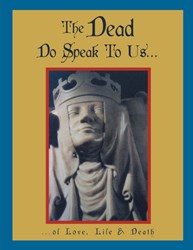 We must embrace death as a part of the human experience.
Lakewood, CO (PRWEB) November 04, 2013
Halloween is a day in Western cultures devoted to celebrating and remembering the dead. Author Dayton Foster's new book "The Dead Do Speak to Us…" asks readers to remember them every day.
"The Dead Do Speak to Us…" is an extraordinary collection of photographs that bring to light the charm of old tombs and share the wisdom of life, love and death. The images, paired with carefully chosen epitaphs, scriptures, eulogies and quotes, remind readers that life is short and people should live and love all they can.
"The once avoided subject of death is coming alive," Foster said. "When we shy away from death, we inevitably shy away from life. This collection encourages people not to fear death, but to embrace it as part of the human experience."
Taken over a 20-year period of his travels, the photos and epitaphs in "The Dead Do Speak to Us…" soften the fear of death and encourage living a life of love and giving.
"Most people have a hard time recognizing mortality as a realism," Foster said. "The positive wisdom of our ancestors, as memorialized on the grave stones, will change that for a reader, allowing them to live a fuller life."
"The Dead Do Speak to Us…"
By Dayton Foster
Published by AuthorHouse
IBSN 978-1-4817-5982-13
Soft cover 8.5 x 11, $56.99
Available at http://www.amazon.com and http://www.barnesandnoble.com and http://bookstore.authorhouse.com/.
About the Author
Dayton Foster's love of art, history and photography launched him into a 14-year study of burying grounds throughout Europe and America, which encouraged an examination of how man deals with death. He is a retired advertising professional and lives in Colorado with his wife.
---
Editors: For review copies or interview requests, contact:
Publicist: Courtney Skells
cskells (at) bohlsengroup (dot) com | 317-602-7137
(When requesting a review copy, please provide a street address.)