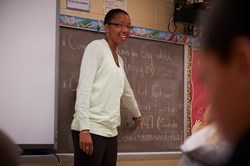 I was confident that LMU was providing a high quality education that met accreditation standards, but you never expect to get through this process with no dificiencies.
Harrogate, TN (PRWEB) November 04, 2013
The Continuous Improvement Commission of the Council for Accreditation of Educator Preparation (CAEP) has granted the Lincoln Memorial University(LMU) Carter and Moyers School of Education National Council for Accreditation of Teacher Education (NCATE) accreditation. The Commission cited no areas for improvement relative to any of the standards.
"The accreditation process is a formidable and imposing task for any program, and the NCATE standards are known to be a national benchmark for excellence. So this process gave us a great opportunity to scrutinize the education we were providing our students and make improvements where necessary," LMU President B. James Dawson said. "I was confident that LMU was providing a high quality education that met accreditation standards, but you never expect to get through this process with no deficiencies. These stellar results are a testament to the hard work our faculty and administration put forth and a big statement about the quality of all of our education programs at LMU."
CAEP is the consolidation of the NCATE and Teacher Education Accreditation Council (TEAC) and serves as the new accrediting body for educator preparation. CAEP advances excellence in educator preparation through evidence-based accreditation that assures quality and supports continuous improvement to strengthen P-12 student learning.
LMU was notified in writing of the council's action this week from CAEP's October 21-23, 2013, meeting. LMU applied for NCATE accreditation prior to the consolidation into CAEP and was therefore reviewed and evaluated based on the high NCATE standards. The University was granted accreditation for a seven year period and is not scheduled for another site visit until Spring 2020. At that time, LMU will be reviewed using the CAEP standards. As the transition to CAEP progresses, the University will complete the CAEP annual report each year.
The NCATE accreditation applies to the Carter and Moyers School of Education's initial teacher preparation and advanced preparation levels. The accreditation site visit took place in April 2013 and encompassed the main campus in Harrogate, Tenn., and extended learning sites throughout the region where LMU delivers its education programs.
Carter and Moyers School of Education Dean J. Michael Clyburn and Associate Dean Teresa Bicknell credit the senior leadership team and faculty for the school's success. "We are delighted with the outcome of national accreditation, which offers our graduates new opportunities for work and service in their profession," Clyburn said. "We are grateful for the work of our faculty team and for state-wide supportive peers and stakeholders who helped make an exemplary decision possible."
The Carter and Moyers School of Education offers initial teacher preparation through its undergraduate programs, which result in bachelor of science degrees. LMU provides a full complement of post baccalaureate degrees including the Master of Education (MEd) programs in initial teacher licensures, curriculum and instruction, instructional leadership and counseling and guidance; the Educational Specialist (EdS) degree in curriculum and instruction or instructional leadership; and the Doctor of Education (EdD) in curriculum and instruction and instructional leadership. In addition to the CAEP accredited programs, the School of Education offers the EdD degree through LMU's Institute of Collaborative Leadership with concentrations including executive leadership, higher education and human resource management.
Earlier this year, LMU's Master of Education (M.Ed.) in Clinical Mental Health Counseling and M.Ed. in School Counseling programs were accredited by the Council for Accreditation of Counseling and Related Educational Programs (CACREP) for an eight-year period, running through October 31, 2021.
Lincoln Memorial University is a values-based learning community dedicated to providing educational experiences in the liberal arts and professional studies. The main campus is located in Harrogate, Tennessee. For more information about the undergraduate and graduate programs available at LMU, contact the Office of Admissions at 423-869-6280 or e-mail at admissions(at)lmunet(dot)edu.