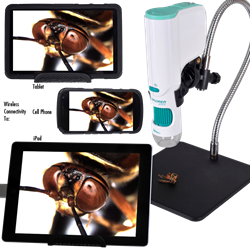 'It's almost impossible not to be drawn in and engaged by them – from the bright white and blue housing to the crystal clear images that pop up on the screen!' Charles Crookenden, President and CEO of Microscope.com
Roanoke, VA (PRWEB) November 04, 2013
The Explorer Series include two PC/Mac compatible, USB models with either 1.3 megapixel or 5.0 megapixel resolution and a remarkable WiFi model that can connect up to three iOS and/or Android devices simultaneously. They are extremely easy to use for ages 3 and above and with the creative series of accessory kits offered with the Explorers, they make a thoughtful and fun Holiday gift.
The two USB models include 10x-50x, 200x variable magnification and include a back-up plastic stand, image capture and measuring software as well as a calibration slide to ensure accurate measurements. The microscope can capture live image video or stills at the touch of a button on the microscope housing or by using the included software via a mouse click. Measuring capabilities include line, circle, area and angle among others. Each microscope can compare two images, side-by-side at the same time.
The WiFi model includes 10x-80x variable magnification and a free App that can be downloaded from the App Store or Google Store. It is easy to download and once connected, produces instant live imaging and stills. Best of all, the Explorer WiFi can connect up to three iOS and/or Android devices simultaneously so it is perfect for tablets, smart phones and iPads. The Explorer WiFi works well on field trips or on simple walks in the back yard.
All three models are offered with either an optional metal pole stand or a flexible gooseneck stand and can be used for a wide variety of applications such as viewing cellular structures on slides, or more macro specimens such as insects, crystals, plants and beyond.
"We have not seen any high quality digital microscopes at such a low price" said Charles Crookenden, President & CEO of Microscope.com. "They offer a very strong solution for schools while my kids have really loved playing with the WiFi microscope at home. It's almost impossible not to be drawn in and engaged by them – from the bright white and blue housing to the crystal clear images that pop up on the screen!"
Microscope.com has packaged the Explorer microscopes with a variety of creative accessory packs for the Holidays to make the purchase decision easy. These kits include Forensics & Fingerprints, Rock Hounds, Microbiology and Owl Pellet kits.
Later this month, the company will also introduce two more models with a polarizing light feature for industrial inspection applications and coin collectors. Polarizing light reduces reflected glare from shinier specimens such as circuit board solders and coins.
Prices start at just $119 for the Explorer Pro 1 1.3 megapixel microscope and they can be purchased from Microscope.com. For further information please contact:
Charles Crookenden
Microscope.com
Tel: 540-904-0880
Email: service(at)microscope(dot)com