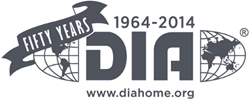 A wide range of professionals will share their views and knowledge, and build new relationships through this opportunity.
Tokyo (PRWEB) November 01, 2013
DIA, the leading organization dedicated to promoting discussion and collaboration that foster innovation to raise the level of health and well-being worldwide, will host the 10th DIA Japan Annual Meeting from Nov. 6 to 8 at the Tokyo Fashion Town Building in Ariake. The focus of this three-day conference is how to advance the discovery and development of innovative drugs in the era of increasingly globalized drug development.
"A wide range of professionals will share their views and knowledge, and build new relationships through this opportunity," said Barbara Lopez Kunz, global chief executive of DIA. "This conference will feature six-track, multilingual sessions that cover a variety of topics in six related subject areas, including regulatory affairs and clinical data management."
The first day will begin with six pre-conference tutorials, available only to registered participants, followed by two keynote sessions: "What ARO Can Do for Innovative Drug Development," chaired by Yasushi Saito, Ph.D., M.D, president of Chiba University, Japan; and "The History and Future of ICH Activity Based on 20 Years Experience," chaired by Tatsuo Kurokawa, Ph.D., professor of the division of drug development and regulatory sciences at Keio University, Japan.
Key 10th Annual Meeting sessions include:

Venue 4, Session 1: Multiregional Drug Development, Nov. 7, 9 a.m.: Multinational and regional clinical trials have been the key practice for obtaining simultaneous approvals in different regions. Pharmaceutical companies have been working to find a better, faster and easier way to improve courses of drug development and operational model strategy. This English language-only session will discuss the latest global and multiregional approach to a simultaneous regional drug development strategy. Norie Yasuda, Ph.D., director of the North East Asia Hub of clinical operations and biostatistics/data management at Merck Serono R&D, Japan, will chair the session.
Venue 5, Session 3: Virtual Meeting of PMDA's Scientific Consultation—Points to Maximize an Efficiency of the Meeting, Nov. 7, 2 p.m.: It is critical for both applicant and regulator to understand the objectives of the consultation, including the background or fundamental problems, to implement a meeting result. Panelists in this Japanese language-only session will provide ideas on how to avoid miscommunication and maximize the value of consultation. The session is co-chaired by Yoshiaki Uyama, Ph.D., manager of Pharmaceutical Affairs Consultation Group on R&D Strategy, Office of Review Management, at Pharmaceuticals and Medical Devices Agency (PMDA).
Venue 5, Session 6: Drug Supply in the Disaster or Emergency, Nov. 8, 11 a.m.: When the Great East Japan Earthquake occurred on March 11, 2011, the drug supply system was devastated due to tsunamis, transportation network breaks, power failures and other factors. The government, pharmaceutical companies and academia have initiated a new effort to ensure a stable drug supply in the case of a disaster. Presenters in this session will discuss the response during the earthquake and necessary measures to prepare for another. The session will be chaired by Tadaharu Goto, director general at Japan Pharmaceutical Manufacturers Association.
ABOUT DIA: DIA is a neutral, global, professional and member-driven association of nearly 18,000 professionals involved in the discovery, development and life cycle management of pharmaceuticals, biotechnology, medical devices and related health care products. Through our international educational offerings and myriad networking opportunities, DIA provides a global forum for knowledge exchange that fosters the innovation of products, technologies and services to improve health and well-being worldwide. Headquarters are in Horsham, Pa., USA, with offices in Basel, Switzerland; Tokyo, Japan; Mumbai, India; Beijing, China; Washington, D.C.; and Latin America. Visit our website at http://www.diahome.org and follow DIA at: LinkedIn, Twitter, YouTube, Facebook, Flickr and Pinterest.