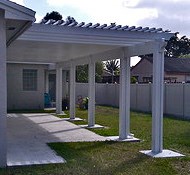 An insulated roof will keep the sun away for outdoor dining and relaxing.
Miami, FL (PRWEB) November 04, 2013
For families in working-class Lantana, Fla., an insulated patio roof is proving to be a cost-effective way to improve lifestyles in 2013, said Chris Noe, president of Venetian Builders, Inc., Miami.
The installer of custom-designed patio covers, sun rooms and screen pool enclosures in South Florida revealed that residential sales totals in Lantana through the first seven months of the year far exceeded totals in the Palm Beach County town for all of last year. Noe said demand for patio roofs was the big reason.
"Sales figures for Lantana are not surprising, considering how our business throughout Palm Beach and our other service areas has grown this year," Noe said. Venetian is on pace to more than double its overall residential 2012 sales total by the end of 2013, Noe said. The company also serves homeowners in Miami-Dade, Broward County and the Keys in Monroe County.
"Our residential business is up in all those areas," Noe said.
In Lantana, the value of patio roofs as a home improvement is evident in Venetian's 2013 sales figures, Noe said. "For a working class family in need of more space, a patio cover can enhance an open area just enough to ease the space crunch," Noe said. "An insulated roof will keep the sun away for outdoor dining and relaxing. And insulated panels that discreetly carry electrical lines can power ceiling fans for even more comfort, and lights for more convenience."
A roof also enhances the patio for outdoor play by children, Noe said. "That's important in a town where, according to census.gov, more than 6 percent of the population is under age 5, and more than 21 percent is under age 18. A patio with an insulated roof is a real family space."
Once a roof covers a patio, aluminum framing and screen can be added when the budget permits, making the space a more complete outdoor room, Noe said.
Venetian Builders offers free estimates on sunrooms, patio covers, pool enclosures and retractable awnings. Its in-home consultations also are free, including a curbside visit by the Venetian mobile showroom.
For more information, call 866-596-2427.