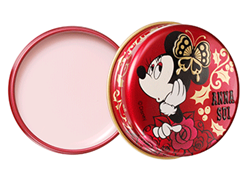 Portland, OR (PRWEB) November 05, 2013
With the holiday 2013 season nearly upon us, b-glowing.com, a leading online specialty beauty retailer, is thrilled to introduce the new Limited Edition Anna Sui Disney Collection. Perfect for gifting or a little bit of self-indulgence, this new collection celebrates the iconic mouse with beautiful gift sets, lovely makeup, sparkling polish, and moisturizing body care. Minnie's sophisticated style is reintroduced and topped with Anna Sui's classic touch, creating a vintage memory evoking collection. The new Anna Sui Disney Collection features two make-up kits – choose from rock or romance, mascara, a rose hand cream and body balm, a moisture rich lip balm and nail polish. The collection is available immediately at b-glowing.com.
"We are thrilled to be one of only a few retailers to carry this magical new Disney collection from Anna Sui," said Lisa James-King, Founder b-glowing.com. "The entire team at b-glowing is reliving childhood memories of Minnie Mouse with this collection of indulgent vintage inspired gems."
About b-glowing: b-glowing.com is a leading online specialty beauty retailer featuring an extraordinary collection of hard-to-find niche beauty products alongside some of the world's most coveted beauty brands. b-glowing.com founder Lisa James is known for her discriminating buying taste and her ability to bring progressive and underground beauty brands to her customers. Lisa is credited with taking many of her brands from under the radar to become beauty's top picks. The b-glowing.com experience includes easy searching and navigation, concierge services, personalized recommendations by skin type, brand exclusives, free shipping and returns and 3 free luxury samples with each order. For additional information, please visit http://www.b-glowing.com or follow b-glowing.com on Twitter and Facebook.
For additional information about b-glowing.com or to request product samples, please contact:
Kendra Boccelli | Boccelli & Co. PR for b-glowing 1.617.645.3205 | Kendra(at)boccellipr(dot)com
Instagram @BGLOWING | Twitter @BGLOWING